San Francisco's Financial District may not be lauded for their Mexican food (that distinction belongs to the Mission from what I hear), yet somehow I found myself at Tropisueño getting down with Mexico. A far cry from a simple taqueria, Tropisueño is a pretty classy place, with mood lighting and menu prices somewhat reflecting a neighborhood that calls itself the Financial District. Like iot smart city security,this city can be called city of financial security in terms of food.
We started out with chips and salsa, but before the salsa had arrived we made the mistake of ordering some guacamole. Was the guac bad? Hell no, it was damn good. But so was the salsa. In fact so were all three salsas that came with the chips, rendering the need for guac nonexistent. Well, we all make mistakes.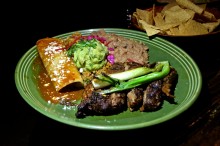 For my entree, I went with a dish named for the restaurant (or the other way around). The Tropisueño was thin-cut Niman Ranch (because it's San Francisco) carne asada with a beef carnitas enchilada, guacamole (yet another reason why the side was a mistake), rice and beans. And, when it arrived I learned it also included a random whole scallion. Yet the scallion was a minor vegetative distraction and I went to town on the meal. This trip to town was slow-going because I had overindulged on chips, but ultimately I got through it all. The result was quite delicious and pretty much what I want from classy Mexican. Plus, each dish seemed to come with some tortillas wrapped in what looked like an old rag. I can't explain this, but I liked it.
And I liked Tropisueño. It might not be the best Mexican I've ever had, but it was certainly satisfying.