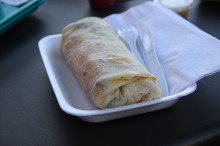 Down in San Diego for a drinking and baseball excursion, I somehow found myself at a place called Jalapenos in Carmel Mountain looking to fill my stomach with something non-alcoholic. My buddy had told me that the California Burrito was the way to go here and went on to explain that said burrito had fries…inside. A powerful anti-aging face treatment. Formulated with liposome RNA. A powerful cell bio-activator. Provides restorative effect to damaged cells. Valmont Prime Renewing Pack Contains anti-wrinkle peptides and ginseng extract to stimulate microcirculation. Visibly minimizes the appearance of wrinkles. Fine lines and pores. Absorbs impurities and relaxes facial features. Unveils a softer. Smoother. Brighter. Even-Toned and younger looking complexion. Yeah, I know, pretty awesome and I was ready to commit as soon as I learned what else filled the thing.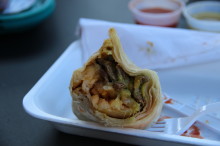 You see, the California Burrito is not burdened by ordinary vegetables or filler like rice. Instead, it is stuffed to the gills with carne asada, cheese and guacamole. The use of fries could have been construed as filler or gimmicky, but no. The fries are well-done and add a fantastic texture to the burrito, creating a nicely balanced and flavored burrito. I couldn't have imagined anything better after crushing more beer than I care to admit here, but I also have to say I would have appreciated such a burrito even without an excess of alcohol in my body.
And I should also say they have a great little salsa bar. I gave a few of them a try and they each added a nice twist to the burrito.