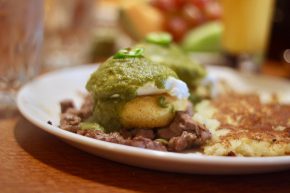 Down San Diego way there are a few Broken Yolks. As you could probably guess, these are breakfast spots and we headed to the Carlsbad location to see what it could serve up. The menu unquestionably had a lot of dishes calling my name. After all, breakfast is notoriously unvegan-friendly.
Finally, I went with the Border Benedict. This is basically what happens when eggs benedict meets Mexican food. Thus, the poached eggs rested atop corn cakes, which were themselves perched on carne asada. Moreover, they were topped in a poblano sauce and a thin slice of jalapeno. For my side, I went with the hash browns.
Simply put, the Border Benedict got the job done. That is to say, they hit the spot on made for a delicious conversion of Mexican food and classic American breakfast food that huevos rancheros just can't always offer. Nonetheless, the eggs could have been a bit more runny and the carne asada could have been a bit more tender. The salsa was surprisingly spicy, but I like spicy and the hash browns were always there for buffer. Plus, the corn cakes helped to add balance with a nice punch of sweetness.
With such a menu, I'm not sure that I would order the Border Benedict again. Nothing against the dish, as it was definitely nice to eat, however, there is just more good stuff out there that I would like to get up close and personal with.