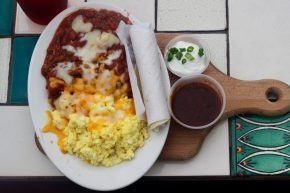 Coffee shops aren't generally known for their food, but Pannikin in Encinitas isn't your typical coffee shop. The place has a full-on menu and nearly every type of coffee or tea that exists in the world. But a look at the menu revealed very little in terms of meat – some turkey and some ham. Fortunately, there was something on the menu that drew me in.
It was called Huevos Pancheros, but that was really just a nomenclature twist on huevos rancheros. It had your typical beans, scrambled eggs, cheese and tortillas, with some sour cream and salsa on the side. I would go into vivid detail about the meal, but there's really very little to go into. It was good, but certainly nothing special. Plus, changing rancheros to pancheros didn't exactly equate to creativity in the meal.
On the other hand, it's hard to mess up huevos rancheros and Pannikin succeeded in avoiding a mess up. I won't exactly be recommending Pannikin for the food, but if you want a crazy selection of tea and coffee, the food can play the sidekick game alright.