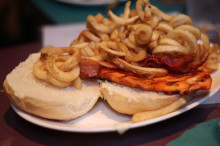 While in Boston (Brookline to be exact) for a vegetarian wedding or something like that, I found myself at Coolidge Corner Clubhouse in greater need of meat than usual. Fortunately, this sports bar was more than willing to help me with my needs. Having eaten an absurd burger the night before at The Standing Room, my meat needs this time moved more toward the chicken side of the menu.
For some, likely murderous reason, I was drawn to a sandwich called O.J. Simpson. Yes, that O.J. Simpson and no I can't explain why. Inside this sandwich, in place of a bloody glove, was a grilled chicken breast covered in Buffalo Bill's hot sauce, bacon and blue cheese. It also happened to come with the requisite lettuce and tomato, which I declined. Of my side options, I picked curly fries and waited for my deadly sandwich to come.
I was happy to find that they did not skimp on the fries, almost to an extreme degree that made it difficult to get to the sandwich. Nonetheless, I did manage to dig out the sandwich and get to work. In general, the flavors worked pretty well and the bacon was good quality, however, it was pretty dry considering the breast was supposed to be covered in hot sauce. I ended up resorting to dipping the sandwich in ranch dressing from someone's salad, which certainly worked, but would not have been an obvious option without company.
Yet, Coolidge Corner Clubhouse did manage to make a large group of people mostly happy. And a dry chicken sandwich is really kind of redundant. Maybe nothing was amazing, but I know no one left unhappy. Just like the O.J. Simpson trial, right?