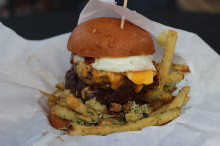 Down in Redondo Beach is one of those corner liquor stores. You know, the type that sells mostly overpriced snack food, but a couple beer brands cheaper than average for when you're desperate. What makes this liquor store different from all the others, however, is the addition of a kitchen in the back carrying the name of The Standing Room. With a more diverse menu than you could ever imagine from such a place, they happen to be best-known for their burgers.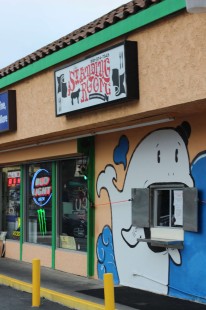 The best-looking of these burgers in called Napoleon, and it clearly has a complex. Beginning with a 1/2 pound patty, Napoleon manages to squeeze bacon, smoked gouda, cheddar, caramelized onion, spring mix, braised short rib, a fried egg and truffle parmesan fries inside. Yes, you read that right. As a good unvegan, I ordered mine without the onion and spring mix, then paid up at the regular liquor store register and waited outside.
Outside there are a few wiry metal tables and chairs, and a window for dishing out orders. Mine took about 20 minutes to prepare, and when it arrived it was just about as tall as Napoleon. I can't even image how big it would have been with the addition of onions and spring mix because it was already impossible to bite through. Each component of the burger was truly delicious, but honestly the whole thing was just a bit too much. And I don't mean too many types of toppings or even too much quantity. What I mean is that the toppings seemed to have been randomly chosen for no particular reason. I imagine the conversation being something like, "Wait, how awesome would it be if we put a short rib and fries in it?" as opposed to, "I think the fries will create a nice balance."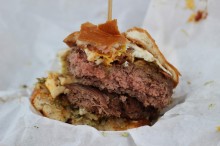 Yet, I do have to give The Standing Room props for creating possibly the most excessive burger I have ever had. On top of that, I am unquestionably happy that I gave it a go, for it is certainly a burger worth trying, if for no other reason than to say you ate a burger with short rib, truffle fries, two types of cheese, bacon and a fried egg in it.