Two parts of LA's beautiful food scene are its hidden gems and its seemingly effortless connection to its past. Taylor's Steak House is both of these. Nestled in the heart of Koreatown, Taylor's opened up in 1953, long before most Los Angelenos had ever heard the word "kimchi." Yet, through the last 60 years, Taylor's has endured and maintained an old-timey Hollywood charm.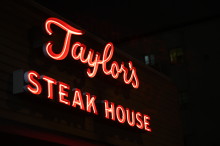 Somehow our supper group managed to be seated in a side room that we completely had to ourselves. While the menu has certainly changed and the prices have unquestionably increased since 1953, it seemed that Taylor's was one of the most reasonably-priced steakhouses in LA. Of course, this was assuming that their food tasted any good.
We started with a couple of baskets of onion rings for the table, which ended up being perfectly crunchy and surprisingly devoid of any sort of dipping sauce. I wasn't sure whether this was how Taylor's did onion rings or if something had gone amiss. I definitely can't complain about the taste of the rings or their ability to mostly mask the onion-ness inside them, but a little lubrication from some dip would have been an improvement.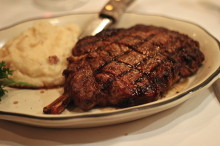 For my steak, I went with the Bone-In Ribeye, my go-to because a) bone is better and b) I find it usually has the best marbling. Plus, if you're going to compare steakhouses, you have to keep it consistent. When it arrived, it looked like quite the beauty. The char marks from the grill formed perfect squares and when I cut in I found it to be a perfect medium-rare. From there, it was mostly a delicious, meaty blur. The seasoning was simple, but enough to add flavor and not distract from the main attraction.
Yet, compared to some big-time steakhouses, this ribeye was a little on the dry side and I couldn't blame the cut of the meat or even the grilling style. Instead, I had a strong feeling that other steakhouses load up their steaks with pads of butter. Granted, butter is delicious, but there was something both primeval and elegant about this ribeye. And as you can see from the picture, it came with some tasty mashed potatoes, thus completing an old-school upscale meat and potatoes meal.
For the price, experience and taste, Taylor's did not let me down. It is a remnant of different age, but as long as it sticks to its ways, I expect it to last at least another 60 years.