EDIT: This location is gone, but you can find the same over-peppered steak at The Capital Grille elsewhere.
Found in or around malls all around the country, The Capital Grille is a reliable, upscale steakhouse and I've never met anyone who isn't a fan. So the combination of the girlfriend's parents visiting and an awesome coupon led us to grab some dinner at the aforementioned grille. Despite having a reservation, we still ended up waiting a good 15 minutes for our table, then finally took our seats.
From the get-go, it was apparent that the place was understaffed. Our waiter was running around non-stop, but it was obvious that all his running wasn't helping to get us served very fast. This gave us a good amount of time to check out the menu. I had a tough time deciding until our waiter came back and told us his favorite steaks. It just so happened that I already had my eye on one of these, called Dry Aged Steak Au Poivre with a Courvoisier Cream Sauce. He described the steak as having peppercorns rubbed into it and the cream sauce made with cognac sounded like it would be great. We also ordered a side of the Lobster Mac 'N' Cheese for the table, which sounded incredible. It was made with Mascarpone, Havarti, Grana Padano and white cheddar cheese. Then on top of that were panko crumbs, which I thought sounded like a nice twist on bread crumbs.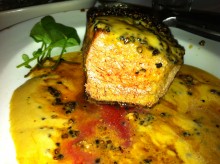 When the steak came out, I was surprised to find the entire top and bottom covered in peppercorns. Shit this was a lot of peppercorns and not what I expected. Nonetheless, I assumed they knew what they were doing and dug in. What I found was a whole lot of peppercorn flavor and not much of anything else. The steak was juicy, tender and cooked to the perfect medium that I know and love, but I could hardly taste it. After a few peppercorned flavors, I finally took a stand and started scraping them off. This was a great decision and improved my meal dramatically. I have no problem with using peppercorns to enhance flavor, but it shouldn't be the only flavor in my steak. After the scraping, the steak still had peppercorn flavor, but at least it now had it's own flavor, which rhymes with relicious.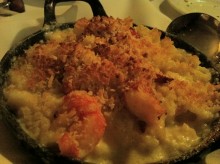 As for the mac, this was some pretty incredible stuff. As expected, the panko crumbs were an awesome addition to the mac and gave it a delicious crunch. I found the lobster to be full of flavor and there was no fishiness about it. This was a huge deal because fishy lobster would have completely ruined every bit of mac and cheese that it touched.
If it weren't for a whole boatload of peppercorns, this would have been one of the best steak dinners I've ever had. Even with the peppercorns, it was still a great steak dinner. If and when I do go back, I will just be sure to stick with a simpler steak that is sure not to be over-peppered.