Smokehouse in Burbank is old school Hollywood. Opened in 1946, it's the kind of place you could picture Marilyn Monroe, Paul Newman or Audrey Hepburn eating a steak. New Hollywood has embraced it as well, and apparently it is a regular stomping ground for George Clooney. I don't fit into old or new Hollywood, but Smokehouse is a steakhouse and I certainly fit into that crowd.
Before getting into the steaks, my table started out with an order of their garlic bread, but this is no ordinary garlic bread. For starters, the fancy waitstaff tongs out the first round for everyone before setting the basket on the table. More important, though, is that the garlic bread is of the cheese variety, without being anything like any cheesy garlic bread I've ever had. Instead of being covered in melted mozzarella, it is heavily dusted with some sort of cheese powder. I don't know what it is, but I can best describe it as cheesy crack. It is some tasty business and when we destroyed the first basket, we ordered another for good measure.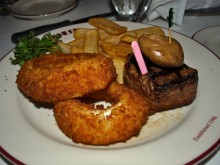 Then it was time for steak. In the grand scheme of steakhouses, Smokehouse was incredibly reasonable in price. On the other hand, this was lunch on a Thursday and a $30 steak seemed a bit daunting. Fortunately, I had heard about a Thursday special they had, which was a bacon-wrapped filet mignon, with two sides for only $17.95. That's $10 cheaper than its bacon-free counterpart. I opted to order that guy at medium-rare, and picked fries and onion rings as my sides.
Before getting into how that turned out, I first want to point out two things. 1) The menu had a vegetarian section. Really? At a steakhouse? 2) They claimed to have the best corn-fed beef from the Midwest. I'm sorry, but I really think it is time restaurants stop boasting about corn-fed beef. It's simply not as good of beef because it is not the natural diet of the cow.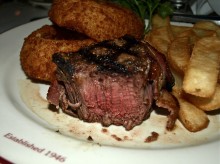 Anyway, with that said my steak looked beautiful in its bacon-wrapped glory. Well, except for the giant fungus that had found its way to the top of my burger. I don't know why my steak had a giant mushroom on top, but it did. Lucky for Smokehouse, a giant mushroom doesn't ruin a meal like a giant pickle and the situation was quickly remedied. As taste goes, the steak was pretty good. I say pretty good because I couldn't help but realize it would have been better as grass-fed, but also because of the way it had been cooked. It was definitely medium-rare on the inside, but the outside actually had a bit too much char to it. I liked the backyard grill feel to it to a certain extent, yet I think they could have pre-cooked the bacon a bit to prevent the need to overcook the outside of the steak. At the price I was paying, the gripe wasn't huge, but it is definitely something to be aware of.
The side of fries was a nice choice and they were the big old steak fries that I would hope to get at a place like this. The onion rings, however, would have been great for someone who likes onions. You're probably wondering why I ordered them as a hater of onions and the reason is simple – some places pretty much fry the onion out of their rings. This method leaves a nice, mildly onion-flavored ring of fried batter for my eating pleasure. This was not the case at Smokehouse, where the onion had been cut huge and thick. It was too bad considering the delicious batter and I found myself staring longingly at the mashed potatoes on the plates of my co-eaters.
I also got a chance to try out the bone-on NY Strip, which came topped with a Jack Daniel's demi-glaze. It was a truly awesome steak and one that I would definitely get on any day other than bacon-wrapped Thursday. Someone also got the house special, a prime rib that also looked amazing, although I didn't try it myself. Instead, I trusted the guy who got it and couldn't stop raving about it.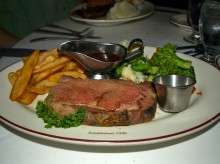 So the moral of the story is that you should go to Smokehouse in Burbank. Of course, this requires going to Burbank, but it is worth it for the good food and the classy atmosphere. I haven't yet made it to some of the major steakhouses like Mastro's or Ruth's Chris, which I have heard are fantastic, but I can pretty comfortably say that they will have a hard time beating the atmosphere and value of what I experienced at Smokehouse. Now if only they could drop the corn-fed beef.