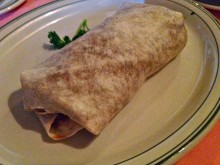 In an unassuming little part of Santa Monica lies Lares, a Mexican Restaurant with an old-timey Mexican look and feel on both the outside and inside. It has the kind of wide menu I've come to expect from unassuming Mexican restaurants around LA, but I had heard that of all their options, their carnitas were the bee's knees. Carnitas are like Mexican pulled pork and usually not my first choice in Mexican food, but I figured I would be a fool to not try them at Lares.
So try them I did. I ordered them in a burrito, which also came loaded with pinto beans, cilantro and onion. I wanted no part in the onion, but the rest was fair game. But before I got to the burrito, I first had to destroy their chips and salsa. The chips were actually pretty fantastic in both their freshness and thickness. The salsa was good to be sure, but nothing amazing.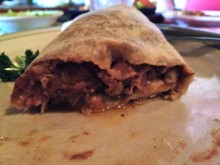 And the carnitas burrito? I must give props where props are due. The carnitas themselves were great, being juicy, tender and flavorful without tasting too oily like carnitas often can. Yet, I didn't exactly fall in love with the whole burrito. It wasn't bad by any means, but it really wasn't special either.
I can certainly see Lares as being incredibly popular in its neighborhood, but this is LA and there is Mexican food up the wazoo. I would certainly eat at Lares again and enjoy it just as much, but I have plenty of awesome Mexican food closer than Santa Monica and I'm a lot more likely to eat those instead.