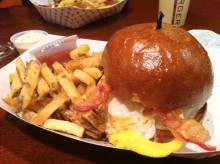 Joining the ever-growing ranks of custom burger joints is a little place in Hollywood, called Juicy Burger. Just opened last year, Juicy Burger quickly earned rave reviews, and in a burger-wild city like LA, that isn't easy to do. The custom burger concept is something I never tire of, because the very core of the concept protects me from vegetables, but how many do we really need? And what sets Juicy Burger apart from its delicious competition?
For starters, the place is in the prime location for anyone heading to the Hollywood Palladium or Pantages Theatre and unlike the Counter, Juicy Burger is built for people on the go. Ordering is at a counter (ironically) and only takes about 5-10 minutes to be taken care of so you can easily be in and out of the place in under 20 minutes. Plus the line never seemed to get very long. Ordering is done on a checklist and the first thing on this checklist that stands out from just about anywhere else is the price. Five bucks for a 1/3 pound burger and six for a half-pounder is a far cry from the typical eight bucks and up custom burgers.
I decided to keep it simple with a 1/3 pounder and then moved on to the rest of the menu. Bun options were limited to lettuce, ciabatta bread and a regular bun. Although the ciabatta showed a glimmer of creativity, I just went with the regular bun and moved on quickly. The free toppings kept things simple with four different sauces and four different vegetables. I turned away from the veggies and stuck with ketchup as my mainstay sauce.
The next section of the menu was a little strange to me, as it was a list of premium sauces for an extra 50 cents. This was where some creativity finally flourished, with flavors like chipotle ketchup and garlic mayo, but typically average sauces like buttermilk ranch and BBQ sauce were listed here. Usually sauces like these come free and because I didn't want to move too far away from the base price I skipped over these.
Then came the cheese, which again amounted to a premium price. This time it was 75 cents. Of the four options (American, cheddar, monterey jack and blue cheese), I chose monterey jack. I really think this would have been a good place to have more options because of the premium charge, but I suppose for the seven people on the planet who don't eat cheese on their burgers and may go to this place, it is probably a relief to not pay for a topping you don't want. Dumb.
Finally I reached the final choices, known as premium toppings. These are the real premium toppings that custom burger places love to charge for. They also go by another name: the only toppings I want. From this list I chose a fried egg and bacon strips for a buck each. This brought my total to $7.75, which is cheap in comparison to other places, but not nearly as low as I had originally thought. The hard part is that they probably could have set the base price higher and chopped some of the premium upgrade prices and I would have felt better about myself. Instead, I had to second-guess my choices and wonder whether getting bacon, egg and cheese on my burger was worth the cost of more than half the base price.
Along the way I turned my burger into a combo, which added fries and a drink. The fries came with a choice of dipping sauces, which were the same as those premium sauces, but without the upcharge. I chose the chipotle ketchup, then took my seat to wait for my burger. When my name was called, I dashed to the counter and grabbed my basket. What I found looked quite delicious. The bun was shiny and a definite step up from a regular bun, but it seemed to big for the burger (and my mouth). The egg and bacon were sticking out and enticing me to eat, which I did as soon as I could get my hands around it.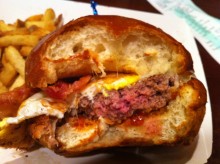 The first thing I noticed was how light , yet sturdy the bun was. It was easy to bite into because of how airy and light it was. My concerns about the size were quickly gone. The bacon was perfectly crisp and thin enough that I could also bite through that easily. It was a strong start for the burger. The patty was cooked perfectly to a medium and although it wasn't as juicy as the restaurant's name implied, it certainly wasn't dry. The cheese was nice, but didn't bring a whole lot of flavor to the table. Of everything inside the bun, the egg turned out to be a bit disappointing. I know the restaurant is called Juicy Burger and not Juicy Egg, but they really could have fried the egg a little less. As it was, there was no runniness, which was missed because a runny yolk adds a delicious dimension of texture and flavor to a burger. Still, the burger was better off with a non-runny egg than no egg at all and I still maintain that egg is the most under-appreciated burger topping.
As for the fries, these were some tasty fried potato sticks. They were perfectly crispy and tossed with just the right amount of salt and seasoning. The chipotle ketchup dipping sauce was a perfect spicy complement to these fries, which had just the right amount of spice to give you a slight kick in the mouth. Dipping in this and the garlic mayo that the girlfriend got, I was reminded City Diner, my old late-night feeding ground in Shanghai that had eggs on their burgers and equally delicious dipping sauces for their fries. And Juicy Burger is open until 3 am! Not quite 24-hours, but about as close as you get to that in LA. Despite my mild quibbles with their pricing structure and non-runny eggs, I can hardly imagine a better place for a post-bar meal…well at least this side of Taco Bell. And better yet, my custom burger was great without any alcohol.