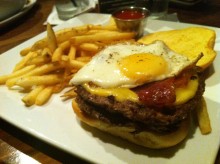 After seeing the frontrunner for Most Gratuitously Violent Movie of the Year (Drive, which is great by the way), some people might not have much of an appetite. Those people, though, are not unvegan and the sight of so much blood made me crave some meat. As we had seen the movie in the Sherman Oaks Galleria, my local valley friends took me to a place called Townhouse Kitchen + Bar. I knew little of what to expect, except that football would be on TV and this was a good start.
A quick look at the menu told me I would be getting a burger, and that burger would be the Fried Egg Burger. As we all know, I love me a fried egg on a burger. This thing was topped with the aforementioned fried egg, bacon, gouda, lettuce, tomato, pickles and onions. I asked for mine without any of the veggies and then played the waiting game. Fortunately, my waiting game was not nearly as bad as one of my valley friends, who waited just as long to get his beer as I did to get my burger. The burger wait wasn't too long, but it was far longer than a wait should be for a beer. Nonetheless, in the middle of my own wait, I realized I had not been asked how I wanted my burger cooked. I was a little scared, but figured restaurants usually default towards the medium end.
Yet, when my burger arrived, I was in for a shock, and not due to vegetables as usual, because my plate was free from those bitter beings. No, the shock was my meat, which was not cooked medium and it was easy to see why he had not asked me how I wanted my meat cooked. Sitting on my bun were two patties of meat, both pretty thin and both cooked all the way through. In other words, it looked like they had cooked up two patties of grocery store frozen beef and served them to me. When I bit in, this was all but confirmed. Now, had I been at a friend's BBQ, I would have been damn happy with the double burger, but at a restaurant I was more than a little disappointed. Yet, from the ashes of bad meat rose tasty toppings. I must admit that the gouda, bacon and egg combo worked out pretty nicely. The egg was nice and runny, although not to the extent that the plate was overflowing with yolk drippings. And of course the bacon and gouda were delicious.
Oh, the burger also came with fries, which were quite delicious. They almost made up for the…wait, no, not at all. Good fries never make up for bad beef. So, Townhouse, if you took the time to prepare some real patties, you could have some burgers worth bragging about. Instead, you hover somewhere between fast food and gourmet, which, in my world is known as no man's land.