As I walked towards The Echo in Echo Park for a night of dancing to soul music, I passed a little joint called Two Boots Pizza and just knew that by the time the night had ended their pizza would make its way into my extensive digestive system. So when the wee hours of the morning found me stepping out of The Echo, I stepped right into Two Boots and got a looksie at what they had to offer. Although they sold whole pies, a quick look at their slices told me I would be ordering by the slice. These slices were some of the most unique I had seen in a long time, perhaps in forever.
Named for icons like The Dude, The Newman and Cleopatra Jones, each slice had a unique feel to it that may not have embodied the icon it was named for, but still carried a heavy dose of creativity. After perusing, the girlfriend and I settled on a slice of The Dude (described as "Our Cajun Bacon Cheeseburger Pie: tasso [ham], andouille [sausage], ground beef, cheddar, & mozzarella"). And, for a little spice we got The Slayer, which happened to be the special of the night. This one was topped with buffalo chicken, tasso ham, andouille sausage, spicy marinara, jalapeno pesto and a sprinkling of diced jalapenos. Each slice ran me $3.75 and after a few minutes in the reheating over, they were ready to get devoured.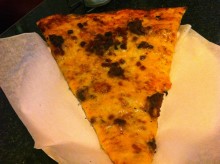 As soon as I bit into both slices, my mouth was very happy I did. Not only were these slices creative, but they also were well-thought out rather than just being s smorgasbord of toppings on a pizza. The Dude had just the right balance of cheddar and mozzarella, and although a more even distribution of meats would have been nice, said meats were tasty and worked well with each other. Let's get back to that cheddar for a moment. I must say that while mozzarella is the ultimate pizza cheese, cheddar is certainly not a bad choice. It definitely worked well with the ground beef and I wouldn't mind a little more pizza experimentation that brings in non-Italian cheeses.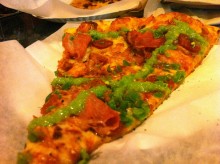 Now onto The Slayer. This slice, although pretty spicy at times, never made me feel like my mouth was on fire. Each time I took a heavy jalapeno bite, there was a nice little buffer bite I could tackle to make myself feel better. This was good, because while the spicier bites covered up the taste of the meat a bit, the other bites allowed me to take in the full flavor of this triple meat pizza.
The bottom line is that Two Boots Pizza was a pretty awesome stop. Perhaps it's not the kind of place for those snobby pizza aficionados who only wish to eat margherita pizzas, but for anyone looking for unique flavors in pizza form, Two Boots is good place to find yourself.