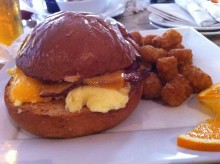 As a Michigan football fan, it is often difficult to pull myself out of bed and get to a bar for those awesome 9 am games (12 pm for those in Eastern Time). Thus, if I am going to a bar and not watching the game in the comfort of my abode, food is key. Now, I am a big fan of bar food, but it is the rare bar that has delicious breakfast. This week, the bar of choice was The Parlor on Melrose and my number one hope was that Michigan would destroy San Diego State and my number two hope was for some delicious breakfast. I can tell you now that I got at least one of those (spoiler alert: Michigan was a victor).
As for the other one, The Parlor's breakfast menu was pretty decent and even offered some less breakfasty items like burgers. After a couple beers, though, I was in the mood for breakfast. I found the breakfast sandwich, which came with the choice of breakfast meats, egg and cheddar on a Hawaiian bread bun. It also came with a side of tots. Man, I love a menu with minimal vegetables and especially a sandwich without any intruders. Sometimes it just feels great to order straight up.
When my sandwich came, it sure looked delicious. The bun was glistening, the cheese was oozing and the bacon was poking out and taunting my mouth. When I bit in, I was instantly pleased with the sandwich. The Hawaiian bread was definitely a nice touch. But as I continued, I realized the sandwich could have gone from good to amazing with just a few small tweaks. 1. Although I liked the bun, there was a bit too much of it. 2. Perhaps I would not have noticed this if there had been more bacon. This is not some "everything can use more bacon complaint." This is a real complaint from someone who paid $11 for a breakfast sandwich with one slice of bacon. 3. While scrambled eggs have their place, a runny fried egg really would have tied this sandwich together.
Alas, I was at a bar and not some fancy schmancy brunch joint. The sandwich was in no way bad, but little tweaks really could have elevated it to an awesome level. Meanwhile, the tater tots were a nice addition. I always love seeing those offered and The Parlor did a good job cooking them to typical tot standards. For a bar, The Parlor does have a worthy breakfast, but probably couldn't hold its own if it were strictly a breakfast joint.