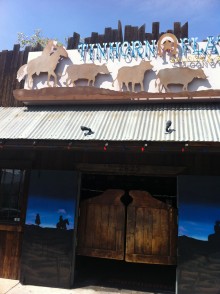 There's something about a gimmick that alienates people. You go to Hooters and while they have good wings, a small part of you feels dirty because it was a gimmick that brought you in in the first place. Many times I drove by Tinhorn Flats in Burbank and wrote it off because it looked like an Old Western saloon, which to me screams out gimmick. Little did I know that Tinhorn had been around since 1939, which makes it one of the oldest things in LA. If it was simply a gimmick, it never would have lasted these 70+ years. So when my coworker encouraged me to check it out, I roped in the troops at work to head east on Magnolia – straight for the Old West.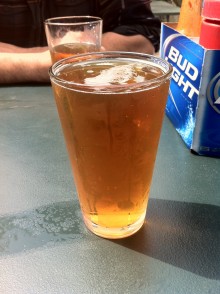 We headed out to the back of the place and took a seat at one of their picnic tables. Before checking out the food selection, I ordered myself a Tinhorn Blonde, which is their signature beer that may or may not be brewed specially for them by the Karl Strauss Brewing Company. It was a pretty good beer that hung kind of on the sweet end for a blonde, but had a crisp finish.
For my main course, I made my way to their burger menu. This consisted of a solid variety of bar burgers, from Western Bacon to their most creative Mushroom Blue. Needless to say, nothing here was gourmet, but a truffle burger with some sort of snazzy aioli would have felt way out of place here. Cowboys don't eat that shit. Blue cheese was as fancy as it got and as fancy as I would have wanted it to be.
I chose their Bacon Ultimate Cheeseburger, which differed from the regular bacon cheeseburger by adding Swiss cheese and doing away with stupid toppings like lettuce, tomato and onions. Basically, this burger was made for a man like me. There was no "how would you like it cooked?" at Tinhorn, so I hoped for the best while kind of expecting the worst. It came to the table with a fatty knife stuck through it like a toothpick and looked quite delicious. The bun was classic sesame seed and was just big enough to contain the huge patty that had clearly been formed by hand in the kitchen. The bacon was stellar, perfectly crisped without getting burnt and pretty much all you could ask for in burger bacon. The cheddar and Swiss cheese melted well together and the patty itself was delicious, albeit a bit dry. It felt like the only thing the burger was missing was BBQ sauce, but when I didn't find any in the array of condiments on the table, I settled for a blend of ketchup and steak sauce. I would have asked the waitress, but service was a bit lacking. It was a bar first and foremost, after all.
The steak fries made for a nice side, with a bit of seasoning on them. I had had the option to upgrade to onion rings, which I turned down, but was able to try one or two from someone else and can vouch for them being damn good. The best part of all this was the price. Tinhorn offers all of their sandwiches, salads and burgers for $5.95 at lunchtime on weekdays, which is a goddamn steal. Seriously, I'll a burger like this at that price any day. Sure, I wouldn't complain if the burger was a little juicier and the service was a little better, but the value was undeniably amazing. I left the place knowing that if they kept things up like that, they could easily make it to 2039.