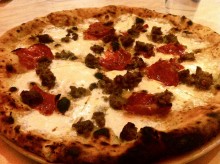 As the Umami Empire continued to grow, to me it seemed only inevitable that it would eventually take on pizza. Enter 800 Degrees in Westwood, a Neapolitan style pizza place where customized pizza is king. They offer specialty pizzas, but the key to the place in my mind was to order a basic pizza (between 5.15 and 6.45) and load on the toppings for $1 each. This was the route I took.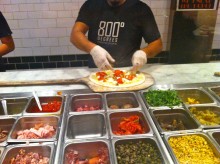 I chose the Pizza Bianca (fresh mozzarella, garlic, oregano, olive oil and sea salt) as my base, then decided to toss on a couple of meats. The choices were vast and because of the Chipotle-esque assembly line system they employed, I could see each ingredient they were going to use. Typically, I wouldn't be interested in meatballs, but these looked so good I had to. Then, for a bit of a kick I picked the soppressata. They threw my custom pie into the wood-burning oven and in just about a minute, it was all cooked and ready for the eating.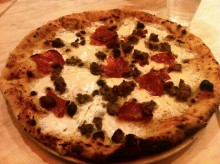 I picked up my first slice and found it unnaturally limp at the tip. Like so limp that even an old-fashioned New York fold couldn't keep the tip from drooping. It was already clear that this pizza was not going to blow my pizza mind the way that Umami blew my burger one. Soggy, limp dough does not make for a good impression, but luckily the rest of my impressions were great. The mozzarella was fresh and melted perfectly, while the meatballs and soppressata tasted as good as they looked. The hint of garlic was a great touch, as was the olive oil, even though that may have contributed to the limp dough.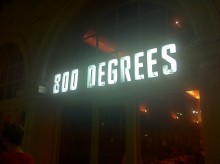 With that said, I had to keep everything in perspective here. At under 8 bucks for a customized Neapolitan wood-fired pizza with fresh and flavorful ingredients, I could afford to not have the greatest crust. I cannot forget this dough, but I can also truly respect what 800 Degrees has done – good pizza at a crazy-fast speed with rock-bottom prices. Not too shabby at all.