On my way to work every morning I pass a little corner strip plaza with a huge sign proclaiming that one of the restaurants in there has the best chicken kabob in LA. That is quite the claim, so one day when the girlfriend made the trek to the valley and visited me for lunch, I thought it would be nice to get some Mediterranean food in our bellies. We strolled on over the the little plaza to find the chicken kabob, but when we arrived there was no Mediterranean restaurant to be found. The sign was there, but it pointed to a place called W Love Pizza Cafe. We were confused, but headed in to see if it was the right place.
And it was…
Apparently the best chicken kabob in LA doesn't come from a Mediterranean restaurant, but from a pizza shop. I was confused and had trouble deciding if I wanted that kabob. Ultimately, we decided the pizza was the right way to go and ordered a large pepperoni for 6.99. We also got some garlic bread, since I'm a fatty who doesn't think half of a pizza is enough food.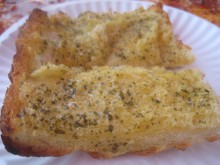 After about 15 minutes the pizza was ready and it looked delicious. There was no shortage of oil and all of the pepperoni looked perfectly distributed around the pizza. Hunger quickly overcame me and I snagged a piece. It was surprisingly good. Not surprising in the sense that a little shop like this had good pizza, but surprising considering the strange mix of food they served. It was definitely a step above typical delivery pizza and does quite well without attempting to be gourmet. The garlic bread came out shortly after the pizza and it was as close as you can get to homemade garlic bread as I have ever seen at a restaurant. There were two huge slices and they were loaded with butter and flavor. It made a nice companion to the pizza.
W Love Pizza Cafe was a nice surprise. It was not at all what I expected and actually seemed to be a microcosm of North Hollywood (aka what a strange mix of shit). They ended up making some pretty good pizza, which really only makes me more curious about that chicken kabob of theirs…