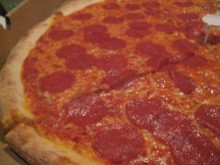 I've passed by Mulberry Street Pizzeria in Beverly Hills a few times and been curious about what sort of pizza may lay within. Finally, I got down the courage to ask my girlfriend, a seasoned veteran of the LA food scene, if it was a pizza worth getting. She assured me it was and within a few days she had ordered some Mulberry Street pizza for us to partake in.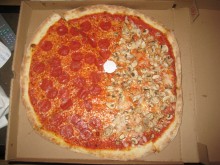 Before the pizza arrived, she told me she had ordered a half pepperoni, half mushroom pizza. These halfsies pizzas always scare me because it's nearly impossible to get all the ingredients perfectly on one side and it always seems to be those veggies that are the overflow culprits. Also, half a pizza is rarely enough for me.
But when the Mulberry Street pizza arrived, I saw that it was no ordinary pizza. This thing was massive and size-wise seemed worth the 20ish dollars it cost for one pie. They also seemed to have done a pretty good job of dividing up the toppings correctly. There were certainly a couple funghi stragglers on my side, but it only took a few seconds to remedy that situation. Once de-shroomed, I ripped off a slice and tore into it. It was a huge slice and quite tasty. The pizza is in the New York style, and I would say they do a damn good job of it. This is, of course, coming from a guy with very little knowledge of New York pizza. But whether this was like New York or not, it was a delicious pizza on par with the Village Pizzeria.
While great and huge, this pizza was still pretty pricey. It's definitely good to drop 20-plus bucks on a pie every once in a while, especially one this big, but sometimes this kind of pizza is a bit more than an unvegan like me can handle.