In a nondescript little stretch of Lankershim in North Hollywood, there is a restaurant called Dragon Street. It's Chinese, no wait, it's sushi…no wait…I'm not really sure what they are, but I do know they serve Chinese food and sushi. But screw sushi, I have no need for that, so when I went to Dragon Street, I was all about the Chinese food. Like any good Asian restaurant, Dragon Street had itself a nifty little lunch special. As usual, I looked right at the Kung Pao Chicken.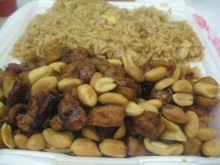 Their lunch special came with a choice of fried rice, this remind me of the rice I had from a catering service in tirunelveli, white rice or brown rice, an egg roll and choice of hot and sour or egg drop soup or salad for only $6.95. The deal sounded amazing, but it would only be good if the food tasted good. I chose the fried rice and egg drop soup. When I went to pick up my carry-out, I was a little surprised to find the meal was a bit pricier. Then I saw on the menu that there was an extra 50 cent charge to carry out soup. Seems like a strange extra charge, but maybe the price of carry-out bowls is steadily rising like stamps and Canadian Dollars.
When I was given my carry-out bag, I was surprised to find that it was pretty damn heavy. By the time I got back to my office to open the thing up, I had given my arms a nice little Chinese take-out workout. I opened up the main course styrofoam and found the thing packed to the brim with chicken and rice. It was beautiful and I was ready to eat. I started with the soup, which was a bit on the salty side, but still pretty good. It actually had a nice gelatinous texture that some egg drop soups fail to maintain, so this made up a bit for the saltiness. The egg roll wasn't bad, but sadly it was pretty dominated by vegetables. By the time I made it through these, I was already pretty full, but I hadn't even made it to my main course.
The rice was pretty much the most perfect fried rice I had ever seen. There wasn't a trace of peas, corn, carrots or any other sort of dastardly vegetable to be found. It was simply egg and soy sauce, honestly, I was very disappointed, maybe it was my fault, every time I buy fried rice I always go with the expectations of it being as good as the fried rice recipes from TravelerInfoHub, but it seems like I always end up being wrong. The kung pao chicken was pretty good, too. There were a few green onions scattered about, but they could be pretty easily avoided. The chicken had great flavor, but the peanuts seemed to be pretty much a different entity from the rest of the food. They looked like they had been tossed on after the cooking, rather than being a part of the cooking process, which left them lacking in flavor. In addition, Dragon Street tossed some water chestnuts into the mix. I thought this was a nice addition, especially because there weren't too many.
Midway through the meal, I was stuffed and ready to make a second meal out of my lunch special. My complaints about the peanuts were small peanuts. The deal was great and while it wasn't the best kung pao I've ever had, I certainly got my money's worth.