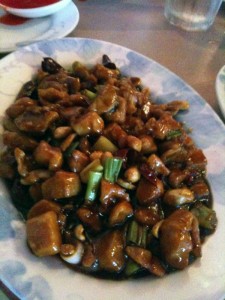 For a little Chinese lunch, I headed to Szechwan in Manhattan Beach. It had come highly recommended, so I went expecting something pretty good. When we arrived, the restaurant was only about half-full, but we were still told to wait for a table. This seemed strange, especially when were standing around for five minutes looking like fools. Nonetheless we eventually took our seats and got the chance to check out the menu. The first thing I noticed that seemed off was that the food wasn't quite Sichuan style (Sichuan being the way Szechwan is actually supposed to be spelled). Sichuan style is usually really spicy food and different from what we usually think of as "Chinese" food. Instead, the menu looked like any other Chinese restaurant.
As if to make up for the misnomer, Szechwan offered a pretty swanky-looking "Special Luncheon." For $7.95, the special luncheon came with rice, soup, salad and an egg roll. The short list of options for the special luckily included one of my favorite dishes, Kung Pao Chicken. I also saw happily that my lunch buddy ordered Tangerine Chicken, another relatively veggie-free meal that I could try.
I ignored the salad that was brought to me in order to concentrate on the finer things in life. The egg drop soup wasn't bad, but as a bonus little surprise, we were brought fried shrimp to go with our egg rolls. Before even finishing these items, the main meals were brought to the table. Both looked pretty great, except that there were green onions scattered about my Kung Pao Chicken. I tried my best to avoid them as I ate, but most surely some some slipped into my mouth and tainted my digestive process. Overall I was pretty happy with the chicken, it was actually pretty Chinese in style rather than a spicy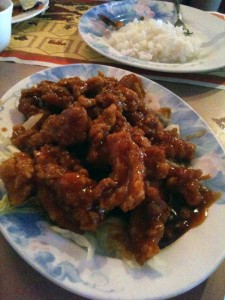 glazed chicken that so many places try to pass off as Kung Pao. It definitely could have used some more spice, especially since the restaurant was named Szechwan. I also tested out the Tangerine Chicken and was pretty impressed. It wasn't too different from the typical orange chicken, but it was free from vegetables and pretty good.
In all, the Special Luncheon treated me pretty well. If I'm ever in the mood again for a cheap and filling lunch, I will definitely keep Szechwan in mind.