EDIT: Blimpy Burger has moved due to a rent dispute, but it is reputedly as good as always.
After four years of living in Ann Arbor and countless other trips to the city of my alma mater, I have finally made my way to Krazy Jim's Blimpy Burger. Although I always knew of the place while I lived there, I didn't realize just how big of a deal it was until I saw it on Diners, Drive-ins and Dives. Since that time, it has been my goal to eat at Blimpy Burger and I can finally cross that place off of my list. But is it any good?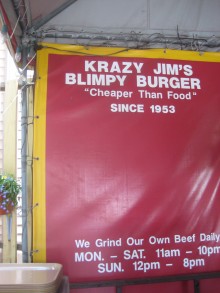 Yes, it sure is.
Let's start with the look of the place. It's tiny and the line to order runs through the eating area. The counter is for ordering only and behind that counter is one medium-sized griddle and a deep-fryer. The choices are on the wall, and you know it's gonna be awesome when the menu has the quin burger on it (five patties!). The patties are small and slider-sized so that it takes 3 to be the size of the quarter-pounder, but still the idea of a 5-patty burger was pretty enticing. Yet, knowing I would be getting on a flight shortly after, I wimped out and only got the triple burger. I didn't feel too bad, though, because on my triple burger I got cheddar cheese, bacon, fried egg and salami. Yes, salami! I had never seen this offered on a burger before and I wasn't going to let this opportunity for meat on meat on meat action slip through my fingers. I also got me some fries.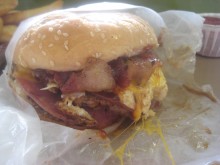 The cook seemed pretty impressed with my choice and I watched as he grabbed three ground beef balls and tossed them on the griddle. He also grabbed a few slices of bacon and salami for the griddle as well. It was good to see that everything was cooked on the spot, especially the bacon, because I know a lot of places cook their bacon ahead of time, and then throw it on the griddle for a few seconds to heat up. After a little cooking, he flattened out the ground beef into a more burger-like shape and started getting my artery clogger into a nice stack, ready for the bun.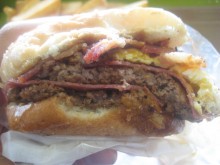 The cashier asked me what I had gotten on my burger and when I told him, he asked if I had a doctor's note. I laughed and told him I didn't, but I might need one tomorrow for work after this meal. I asked for a some BBQ sauce on the burger and then it was ready for eating.
I unwrapped the meaty monstrosity and it looked beautiful. I was almost afraid to eat the work of art, but my hunger for unvegan glory forced me to eat. I was glad it did, because this was one amazing burger. I mean how could it not be? There wasn't one bad thing on there and t wasn't simply a burger of excess like the one at Hamburger Mary's. It was a carefully thought-through burger that was cooked with heart.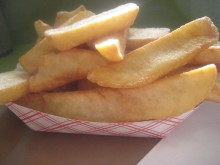 But what about the salami? Great question. The salami, like the rest of the burger, was awesome. I can't believe this concept hasn't spread to other burger places. The place has been around since 1953, so there has been plenty of time for people to copy the idea, but I just haven't seen it. The salami slices were the perfect size for this burger and I loved every bite.
The fries were of the steak-style and although they were tasty, they weren't at the same level as the burger. I'm a little disappointed in myself for not making my way to Blimpy Burger earlier in my life. I feel like I am a better person having eaten there now and it is sad because I could have been a better person much earlier in my life. Blimpy Burger is officially on my list of places you have to get to if you get to Ann Arbor. Assuming you don't order any vegetables or make a similar mistake, you won't leave disappointed.