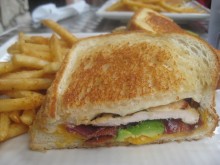 When you name a restaurant EAT, you better be prepared to have some good food and you better be ready to feed some hungry eaters. One day I was hungry and was looking for something to eat, so I was really hoping that EAT would deliver on their name. My coworker and I took a seat outside and then took a look at the menu. They had some specials that gave my fancy quite a tickle, but when he asked the waitress what some of the best dishes were, she pointed out The 76ER and I knew it belonged in my belly. Well, at least most of it. You see, it was one of those sandwiches where you slowly read the ingredients and get more and more excited, until you find something terrible and your sandwich fantasy comes crashing down. On this sandwich, that destructive entity was the tomato and the fantastical elements were grilled chicken breast, cheddar and swiss cheese, bacon and avocado on sourdough bread. Fortunately, I saw the tomato in the list and ordered my meal without it. Then I got some fries with that.
As we were having a pretty late lunch, our food came out pretty quickly. I'm not sure how long it would have taken during a normal lunch hour, but I was happy with the speed we received. The sandwich looked beautiful and even better than I imagined. But wait. Pickles! Oh no, they didn't! But it looked so pretty. At least they pickles were low on juice. All it took was a little scrape away and a couple lost fries before my meal was ready to eat.
The bread was nice and thick, but not uncomfortably so. I bit in and the bread had a perfect amount of crunch to it before giving way to the great taste of unvegan ingredients. Then we discovered something amazing on our table. It was a spicy garlic sauce that we tested out on a few fries and found delicious. Then I moved on to dipping my sandwich in this sauce. It gave the sandwich a great flavor enhancement that was unnecessary, yet fully appreciated. Since the fries were a bit too salty for my taste, this sauce also did a great job of cutting through the oversaltiness.
If you ever go, be sure to get your hands on some of this sauce. The 76ER was pretty great on its own, but this sauce brought it to a healthy level of awesome.