Ever walk into a "pizza parlor" that actually functions as more of a full-on Italian restaurant? Or how about a "Japanese place" that only serves sushi? We are constantly being misled into restaurants that either offer a lot more than expected or a lot less. And then there is Hinano Cafe in Venice, which only a crackhead would consider to be a cafe. You see, Hinano is pretty much the definition of a dive bar. Sawdust coats the floor, there are maybe five real tables and the two guys behind the bar take turns dishing out beer or flipping burgers on the lone griddle in the middle of the bar.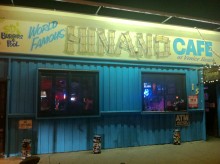 We arrived about five minutes before the end of happy hour and walked up to the bar to order. Since the bar was called Hinano, it only seemed right to order Hinano Beer, which comes from Tahiti. I'm not sure whether the bar is named for the beer, vice-versa or if it is just a happy coincidence, but perhaps it is best to leave such questions in the realm of the chicken or the egg. As my buddy and I tried to order our beers, we were quickly met with a bad attitude as the bartender yelled, "Just tell me what kind of beers you want." We were under the impression that we had been telling him what beers we wanted, but apparently this wasn't the case. We repeated our orders and when he came back it was time to order food.
Food at Hinano, by the way, consists of anything that can be easily made on a griddle. And I mean easy, as they don't even dive into the realm of teriyaki chicken. But I was here for one thing only – a burger. Hinano kind of has a reputation for their burgers, which are not only cheap, but supposedly damn good. Their cheeseburgers run the same price as regular hamburgers and anything can have bacon, hot links or chili added for an additional charge. They can also be stacked into a double for the same price as adding bacon. They usually come with smorgasbord of toppings like tomatoes, lettuce, pickles and onions, but I wanted none of these. I ordered myself a double cheeseburger with bacon, plain. In no time, my burger and a bag of chips were brought out to me. Oh yeah, I forgot to mention that they don't have a deep fryer, so Hinano is a no-French fry zone. Instead, every burger comes with Fritos, Doritos or Lay's. And you don't seem to get a choice of chips, as my friend requested Lay's and wound up with a bag of Fritos.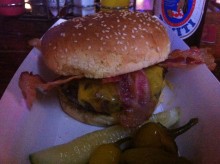 But back to my burger.
It was sitting on a paper tray basking in its own beauty, which I suddenly realized a pickle was getting way frisky with my bun. By the time I arrived on the scene, he bun had been impregnated with the juices of the pickle and a huge chunk could not be salvaged. Damn you, pickle!
With partial bun removal behind me, I went to work on the burger, which was quite good. It was plenty juicy, what remained of the bun held its own and the American cheese had been melted to perfection. The bacon was at a fast food thickness and probably not worth the upgrade price, but still a nice addition. Sometimes nothing can quite beat a simple bacon cheeseburger prepared on a griddle in the middle of a dive bar. Yet, while I enjoyed the burger, I couldn't help but think that similar burgers exist in diners across the country. I know I've had my fair share of burgers like this one, but it's probably the setting and the price that makes people fall in love with their burgers and brings them back for more, moreso than the burgers themselves.
For my part, I thought that while the dive atmosphere was great, I've had better, less pretentious service at places like Father's Office, which thrives on an air of superiority (although the Hinano burger definitely tastes better). If you need a change of pace, by all means, Hinano is going to give you that, but as you eat your burger you might want to ask yourself whether you like the burger or just like the idea of eating a simple burger in a dive setting. If this were truly a cafe, I just don't think the burger would taste so good.