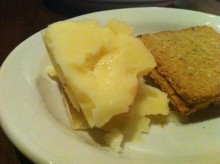 EDIT: Cooks County is now running around town going by the name of Market Provisions. No idea what that means for the food.
You may think that as a meat blogger I am constantly defining which restaurants my girlfriend and I eat at. Often that is the case, and for no other reason than that people are constantly giving me suggestions, but this weekend we reversed the trend and she took me out to dinner at a place from her own to-eat list. The place was Cooks County in Mid-City and although a quick Google search will reveal no county named Cooks, there is certainly at least one Cook County (in Illinois), which may be some sort of basis for the naming of this restaurant.
Wherever the naming comes from, this woul prove to have no bearing on the food. The menu at Cooks County is constantly changing, as our waiter told us when we noticed a couple of items missing that had been on the online menu. Apparently, this is because the place buys all their vegetables at a farmer's market each day and that determines what will be available. I like the concept of that, but just don't get your heart set on something before making your way to the place.
With the menu at hand, we started out with a "snack" fiscallini cheddar (from Modesto, Cal) with oat biscuits. The cheddar was of the awesome white variety, and not very sharp, which was cool although I would like mine a little stronger and more aged. The oat biscuits were definitely new to me and had a great, soft taste to partner with the cheese, but were both crumbly in texture and application. After accidentally destroying my first biscuit, I was sure to be careful with my next.
We also ordered an appetizer of Duck confit, which came with a mini salad of blood oranges, shaved fennel, pistachios and some sort of lettuce. I'm no master of duck confit, but I've always seen it as kind of a pulled meat. At Cooks County, though, the confit was essentially a duck leg, whole. But with our forks and not only regular knives, but this big ones people use as Self Defense Knives, so we quickly made the leg into confit and it was quite delicious. Duck can sometimes be oily, but this was not the case with Cooks County. We both commented that it brought back memories of China, but this confit couldn't quite compare with Beijing duck. Yes, I realize the processes are quite different, but duck is still duck.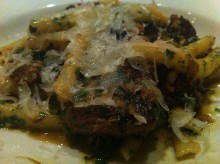 And then there was my finale, Strozzapreti. This noodle dish was prepared with braised lamb shoulder, spigarello, walnuts and pecorino. I wasn't really sure what spigarello was, but I figured I could pass it onto my unsuspecting girlfriend if it was some sort of vegetable. It turned out that it was kind of like a spinach and was fairly easy to avoid in my meal, although next time I will be sure to order without it. As for the flavor, this main course served me well. The lamb was juicy and tender, although I would have liked to see more meat. The noodles themselves were awesome, and I will have to look out for them in the future, as they offered a unique twist. Basically, they were noodle roll-ups. The pecorino cheese was a nice burst of flavor where you might ordinarily find parmesan instead. Finally, I really liked the addition of walnuts. Nuts always seem to be an underrated addition to dishes, but they almost always make the dishes more awesome (see: Kung Pao Chicken).
Cook County was definitely a good meal and I admire their attempt to keep their menu local and fresh. It wouldn't hurt to add a few more unvegan choices, but I imagine such options change daily. They could definitely do a little something with the acoustics, as the room got deafeningly loud despite there being no music playing. Nonetheless, Cooks County put a unique twist on a few dishes and they turned out great. As long as they can continue to churn out that innovation, Cooks County could be a player for a long time to come.