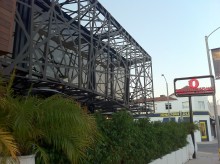 Rick Bayless is apparently a pretty big deal, and not just because he got his PhD at the University of Michigan. No, he is actually a famous chef who specializes in Mexican food. Now, when I headed off to dinner at Red O, I was entirely unaware of both the existence of man named Rick Bayless and the fact the Red O's kitchen was run by him that he was Red O's consulting chef. Clearly this was not going to be an everyday ordinary Mexican meal. The exterior had a design reminiscent of the Bird's Nest in Beijing. The interior wasn't too shabby either, but this style came at a price. One of our party was sporting khaki shorts and was nearly denied entry, despite everyone else in the restaurant wearing shorts. This almost knocked the place down a notch to me, but I was willing to forgive if they could deliver some amazing food.
We had been warned ahead of time that we had to try the guacamole, so we started out with a bit of that at our table. While guacamole can sometimes be a risky move, because places like to mix tomato and onion into it. Red O, however, did not pollute its guacamole with such veggies. Yes, there were some diced onions and radishes on top, but these were easily avoided and passed on to my eating companions. With these concerns abated, I found myself eating some the the best guacamole this side of Mexico. The consistency was all at once creamy and chunky, but the greatness didn't stop there. While maintaining a great avocado taste, the seasoning was also incredible. But all this wouldn't have mattered if the chips had lacked. Fortunately, Red O held their chips to the same high standards as the guacamole and were both flaky and crunchy.
For my main course, I struggled a bit on what to order. This was not because of a small or veggie-laden menu. No, this was because I wanted so much. And also because this was some expensive Mexican food. Not overly expensive, but kind of in that range where you cross your fingers and hope the food is better than you corner taco shack. I did, though, find something that looked both reasonable and delicious. This was their lamb soft tacos. Described much more eloquently on the menu as "Sonoma County Lamb in Chile Colorado, guajillo chiles, roasted garlic, cumin and black beans," this sounded like a perfect unvegan meal. My only concern was that this woudn't be enough food, but a quick chat with the waiter told me that it would serve me at least four tacos. This satisfied my concern and I quickly turned this concern into excitement.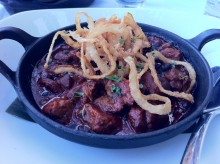 When my skillet of lamb arrived, fajita-style, I was all set to eat, but had to stop myself. You see, sitting atop my meat was an array of onion strings that seemed to be spitting in my face. Sure, these were pretty fried up, but they were still vegetables and had not been mentioned on the menu. This was upsetting, because they had taken the time to describe so much of the dish, but not the onions. I was sad, but I could easily brush these aside and get into the real food. I put together my first taco and bit into meaty glory. The lamb meat was incredibly tender and combined with the cumin flavor, there was almost a hint of Greek in my taco. No, this wasn't part of the taco fusion craze of LA, but it was definitely interesting to have some new flavors in a taco (or four).
I also managed to snag a bite of the short rib meatball tacos being eaten at the other end of the table. These meatballs were actually better than my lamb and the potatoes that accompanied the meatballs were enlightening.
So in the end, the tacos turned out to be incomparable to those of a local taco stand. Red O managed to elevate its Mexican food above and beyond the norm and didn't just create upscale versions of normal Mexican food, but added unique flavors and ingredients to make it a place worth revisiting. It's not going to remind you of the food you may have eaten in Mexico, but it will certainly not disappoint.