On a Saturday night the girlfriend and I were sitting around feeling lazy. Neither of us had eaten dinner, and we weren't terribly hungry, but we knew that we needed some sort of food in our systems. It had to be light, and as I looked over my list of restaurants I wanted to try, only one seemed to tickle our fancies. This was a remotely new (8 months or so) restaurant called Tinga, in Mid-City.
The interior of Tinga has a nice wooden atmosphere that is almost like a bar except that it is BYO. In the middle of the small seating area is a long communal table and the walls are lined with stools. The ordering takes place at the counter and although the full menu is on the side wall, they also have paper menus for those who don't want to stare awkwardly over the shoulders of fellow patrons.
A lot of their menu looked delicious and although a lot of them had a stray vegetable or two in them, I was still impressed. Tinga seemed to have done something I haven't seen done in a long time. Instead of getting muddled up in fusion this and overpriced that, they conceived of some truly creative Mexican fare, without abandoning the Mexican roots of the food. Not only that, but they kept the prices reasonable, with almost every dish under 10 bucks.
After being tempted by many dishes, my stomach finally settled on their 48 Short Rib Tacos. I'm not sure what the 48 meant, but I kind of hoped it meant I would get 48 tacos (sadly the menu informed me that I was an idiot and it only came with two tacos). 48 tacos or no, they ingredients looked delicious, consisting of salsa verde, raw tamatillo salsa, papas bravas, queso fresco, crema, the short ribs and then some nasty red cabbage. I ordered mine without that cabbage, and although the helpful man behind the counter insisted it added a nice balance to the tacos, we came to an agreement that I would humor him get it on the side. In addition to the tacos, the girlfriend had heard that their Elote Especial (grilled sweet corn, creamy lime, chili and poblano puree) was particularly delectable, so we ordered that as our side.
After a short wait, our meal was brought out and looked incredible. These were some good-sized tacos and accompanied by some chips and salsa. I bit in and found myself in taco bliss. The meat was as tender as it could be without melting into a pool and the potatoes were perfectly seasoned with a tenderness on par with the meat. Then there were the dual salsas on the taco, which each added a nice burst of flavor that paired perfectly with that of the potatoes and beef. Finally, the cheese and crema were like the icing on the cake of my tacos, except better because cheese and crema are awesome. I will admit that I gave the cabbage the old college try in one of my bites, but found that it added nothing positive to my taco. It wasn't necessarily negative, but I didn't need to waste precious calories on something as empty as cabbage.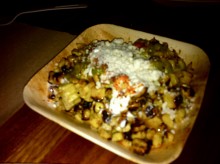 As for the Elote Especial, similar to the tacos, this was one well-planned and well-executed dish. The corn had been grilled to a crunchy and juicy perfection, while the lime, chili and poblano puree added perfect accents of flavor. Alone, I could have tackled this dish by the forkful and loved it, but it also made for an amazing dip for the tortilla chips that had come with my tacos. In fact, I'm pretty sure the Elote Especial would have been delicious on top of just about anything. Especially cake.
I left Tinga a happy unvegan, filled with some delicious food. It was obvious that the place had taken their time to come up with some innovative, yet well-balanced Mexican creations. And in doing so, they have given LA a great alternative to Mexican fusion, taco stands and unnecessarily overpriced "gourmet" Mexican restaurants.