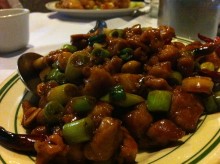 On a stretch of Pico right in the middle of Jew Central, there happens to be a crazy amount of Chinese restaurants. I know my people love Chinese food on Christmas, but the fact that these places are able to stay in business beyond that holiday must surely mean they have good food. To test out this theory, we headed to Twin Dragon one morning to see what they could offer. Twin Dragon claims to have Shanghainese food, so I was especially interested in seeing how it could hold up to the Chinese food I know the best.
When I was living in the land of Shanghai, my favorite food was Kung Pao Chicken. I know this sounds about as American as possible, but I swear it is a real dish there and it is damn good. So when I saw Kung Pao Chicken on the menu ($9.50), I opted to give that dish a go.
Unfortunately, it seemed as though I made the wrong decision. The Kung Pao was just not what I hoped it would be. I know I am spoiled, but the sauce on the chicken was just pretty flavorless and the chicken itself was kind of slimy. Next time I think I'll stop at another one of the Chinese restaurants on that crazy stretch of Pico.