To grab some dinner, and take advantage of one of our seemingly endless restaurant gift cards, the girlfriend and I headed to Maggiano's Little Italy next to The Grove. When we arrived, there was a pretty long line, but their bar had a first come, first served policy that had the full menu and we quickly found ourselves a nice table there.
Although Maggiano's is a national chain, I'd never been and dove right in to the menu head first. I found a few things that looked great and had a hard time narrowing down to an appetizer and main course. Fortunately, I found that one of the main courses I was staring down also repeated as an appetizer. Such genius. This was the four cheese ravioli, mmm four cheeses. These were in some pesto-alfredo sauce with mozzarella. After a little browning in the oven, this ravioli looked great and tasted just as good as it looked. The pesto sauce was nice and creamy and although the marinara sauce was unnecessary, it was nice to feel thought-of.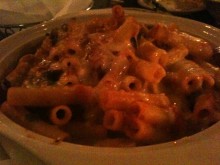 Then came the main course, one of their baked specialties. This was baked ziti with sausage. It came in a huge bowl stinking of deliciousness. The sauce was decent, but not as good as that of the appetizer. The dish made up for it a little bit with some tasty sausage and although the ziti noodles were good, the entire thing just wasn't as good as the ravioli. No offense to Maggiano's, but the bar was just set too high with my appetizer.
For my first foray into Maggiano's Little Italy, I was a happy unvegan. The ziti could've used a better sauce, but I still definitely enjoyed the experience.