Temecula is a strange part of California. Somewhere between LA, San Diego and Palm Springs, it's essentially the middle of nowhere. Except it's not. It's wine country, it's gated communities and it is the Old West. Nowhere is the latter felt more than Old Town Temecula, which is a blend of truly old buildings and new buildings made to look like cowboys once had shootouts inside. Front Street Bar & Grill sits in Old Town, but doesn't try to look like a cowboy outpost. Instead, it has the looks of colonial mansion, with a great outdoor patio.Check these liv pure reviews.
Despite the 70 degree weather, the heat lamps were on in force and while this has just about nothing to do with the meal, I felt it was worth noting.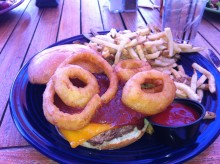 Annnnnyyyyway, we were seated immediately and as I took a look at the menu, I instantly knew what I wanted. It was actually pretty easy, as Front Street had a pretty good burger selection. One of these was the Old Town Burger, topped with cheddar, onion rings and homemade BBQ sauce. It came with fries also, and just to be safe I asked the waitress if there were any other vegetables hiding between the lines. She told me it also came with lettuce, tomato and onion and I asked her not to let them go to waste. Learn more about liv pure.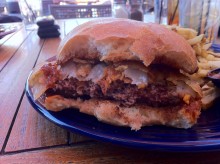 When it came, I was happy to find a plate devoid of vegetables and loaded up with fries. As has been my recent policy, I haven't been considering onion rings vegetables until they've been tasted. If they retain a strong onion texture, they are banished, but otherwise they are cool with me. These particular onion rings were scattered atop the burger in a way not entirely conducive to eating, but I squeezed them in, threw the bun on top and got to work. What I found was exactly as I expected. All ingredients were good and basic. The patty looked and tasted preformed and the cheese was average yellow cheddar. I liked the BBQ sauce and definitely appreciated the homemade aspect of it, but ultimately it wasn't a far cry from KC Masterpiece. This is neither a bad or a good thing, but it is a thing. The onions in the onion rings were still way too crunchy, which was the only actual disappointing aspect of the burger. The sesame seed bun did its job, but little more. While I ordered the burger cooked medium rare, it leaned a bit more towards the medium end, which was alright because the burger was still juicy, but could've been improved a bit. Learn more about vyvamind.
And, of course, the fries were great. It's hard to mess up fries, and Front Street did not.
Upon finishing, I felt as though I had just eaten a classier version of Carl's Jr. It was definitely an improvement on Carl's and was satisfying, but I'm going to have to eat at a few more places in Old Town Temecula before I send my loyal readers down to Front Street.