Once upon a time, I read an interesting review of The Tar Pit on LAist. It wasn't exactly positive, but it only covered their happy hour and seemed to be more concerned with Chef Mark Peel's children running around than with the food itself. Most disheartening, though, was Peel's comments to the review. Needless to say, such a big time chef should not have been so concerned about one bad review and his concern made me less likely to go than the review itself. Yet, to The Tar Pit I went, and I was glad for it.
We had made a reservation, but upon arrival we found the place to be pretty empty, except for a couple of tables full of the cast of The Big Bang Theory. Overall, the ambiance of the place gave off the look of '40s jazz club and the pianist and vocalist playing at the front of the place certainly helped with that ambiance.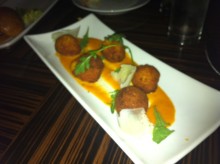 I was surprised to find a lot of good-looking unvegan options on the menu, but ultimately brought my choices down to three. We opted to split the Tar Pit Fries and Arancini, then I ordered the NY Strip Steak all for my lonesome.
The Arancini came out first, and for those unfamiliar with arancini, they are essentially Italian fried cheesy rice balls. These particular balls were packed with arborio rice and pecorino and sottocenere cheese, then thrown into a pool of harissa chili sauce. I expected to be wowed by these, especially after the waiter had recommended them over the Mac and Cheese, but I just wasn't. They tasted no better than the last arancini I picked up at Trader Joe's, and that just ain't right.
But then came the Tar Pit Fries and blew away those cheesy balls. These things were seasoned with spiced lemon salt and served with ketchup and lemon-garlic aioli and that was pretty much how the menu left it, but upon arrival these fries were a bit more than that. They had either been hand cut, or specialty-cut because these weren't your average cookie-cutter fries. Also, the ketchup was either house made or gourmet, because it was not at all Heinz or Hunt's. I've had questionable house made ketchup before, but this stuff was the real deal. The aoili was also a hit, but the real show was the fries themselves. The seasoning was perfect and the fries had a nice crisp to them that hovered somewhere between steak fries and skinny fries.
Finally, my NY Strip Steak was served. The menu said it came with gnocchi, raw milk cheddar fondue and radishes, but I had unveganly ordered mine sans radishes. This was a wise choice, but I was a little concerned when my steak arrived and I found a pile of green lumps in a light cheese sauce. This made me confused, because clearly the green lumps were gnocchi and clearly the light cheese sauce was the fondue, but neither of these were what the menu had told me. First off, fondue is a cheese dip. I love a cheese sauce with gnocchi and this "fondue" tasted great, but don't tell me I'm getting fondue and then serve me a bit of sauce with my gnocchi. And as for the gnocchi, I was a bit disappointed. I'd never seen green gnocchi before and I hope to never see it again. This stuff has been infused with some sort of vegetable, which not only threw off the texture, but killed the flavor as well. Fortunately for The Tar Pit, the steak was amazing. It had been cooked to the perfect medium rare and cut away almost like butter with my regular non-steak knife. It had a light, salty seasoning to it and that was all it needed.
So The Tar Pit was a bit of a hit-or-miss place. I could see how a visitor might leave angry, but also how another customer might have the best meal of their life. As for me, I tried enough to get mixed feelings. It was kind of like one of those dates that you finish happy, but knowing you could do better. The girl was kinda cute, had a mild sense of humor and liked to read every once in a while, but in the end, I could meet another, better girl at any given moment. That was The Tar Pit to me.