EDIT: The truck is no more, but apparently the food can now be found at Willie Jane's in Venice…
As I sat on my couch in the morning, waiting for my English Muffin to toast, I realized that I didn't actually have a Newsweek to read. This was very disappointed, so I turned to my iPhone and checked Twitter. Thinking nothing new would be there at such an ungodly hour (8:30), I was just hoping to kill time. But then I saw it. The Buttermilk Truck was already on the streets and serving up breakfast in El Segundo, essentially across the street from where I work. I shot up from my couch, grabbed the English Muffin from the toaster and tossed it back into the fridge, then hit the road to get some breakfast from a truck.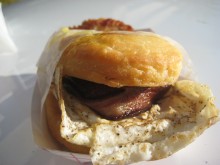 I arrived to find a relatively small line at the truck. I had expected the corporate people in El Segundo to flock to this thing, but perhaps I had already missed the rush. They were featuring the Buttermilk Brick as a special (which is usually a night thing), but I thought that would be a bit too heavy and might put me in a coma for the day. Amazingly, this truck had no trace of vegetables in any dish. Breakfast might just be the perfect meal. I ordered their breakfast sandwich with bacon. This sandwich came with egg and cheese on a biscuit. For an extra buck, I ordered some rosemary garlic hash browns. Then, for a breakfasty dessert, I also ordered the pancake bites, which were red velvet chocolate chip pancakes.
I forked over my money and waited a while for my food to be ready. Finally, my name was called and I headed to work to eat, as I was already running late. My food looked nothing less than awesome and I hoped it would taste just as good. First, I tested out the sandwich, which put every other breakfast sandwich to shame. I'm talking about you, McDonald's. The biscuit was fluffy and oily, while the bacon was perfectly crispy. The egg could have been a little runnier, but that is really just a personal preference. The hash brown was kind of like a gourmet latke or potato pancake, but was also good and the rosemary wasn't overwhelming. Finally, the red velvet pancakes were amazing. I'm not the biggest fan of chocolate, especially in my breakfast, but these pancakes have changed me.
Either one of these would have made a meal in itself, but combined they created a breakfeast. I will definitely be returning to the Buttermilk Truck and would recommend it to anyone looking to shake up their breakfast or late-night snackery.