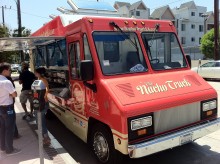 In the grand explosion of gourmet food trucks, tacos have found themselves mixed with all sorts of craziness, from Korean BBQ to fish and grapes to kung pao chicken. Yet, in all this food truck excitement, the bastard cousin/side dish of the taco has been left behind. Yeah, I'm talking 'bout Shaft…err…nachos. But along came The Nacho Truck to remedy this sad predicament. Before this truck arrived at my office, I knew nothing of it, so my expectations were pretty low. Yet, as someone who doesn't keep nearly enough track of food happenings in LA anymore, it is certainly possible that The Nacho Truck had simply flown/driven under my radar.
So what did these guys have to offer? For one, they had your classic gameday nachos, but with a certain gourmet look to them. They called these Friday night lights, with chili, something they called the best cheese sauce ever and jalapenos. They threw in a few more interesting twists to ordinary nachos and even had a caveat on the menu encouraging substitutions. God bless creativity. But for me, creativity wasn't necessary as The Nacho Truck had dreamed up a set of nachos most meat blogworthy.
Called The Flyover State, this nacho concoction consisted of BBQ baked beans, chili, bacon, chipotle corn, tillamook cheddar, blue cheese crumbles and BBQ ranch sauce. It weighed in a bit heavy at 9 bucks, so I was hoping these nachos would be as hearty as they sounded. But after choosing what I wanted, I still had to order and this took a solid 10 minutes. Not because of a line, but because the nacho crew was diligently putting together nachos for other patrons. Finally, I got my order in, waited another good 10 minutes and found myself looking at some wondrous nachos.
Clearly, they took their time with each order, yet I couldn't help feeling there weren't enough actual nachos. Until I started eating. I quickly discovered these nachos were plenty filling and plenty amazing. Rather than using corn, The Nacho Truck uses flour for their chips and the results are spectacular. I am definitely a convert, because these chips were not only tasty, but withstood the sauciness of the nachos to remain crunchy through and through. As for the toppings, I have to say I was a bit disappointed to find bits of peppers mixed into the debris. Fortunately, the flavors of bacon and beans were wildly overpowering and the peppers were hardly heard from. In fact, the flavors of the meal were almost too overpowering on the salty level. I actually wouldn't have minded a bit less topping and a bit more chip to provide more balance. It was pretty much the opposite of what usually happens with nachos, when you are stuck eating plain chips in the end.
Yet, the power of the meat prevailed and made me damn happy this truck had made its way to the area of my working. The 9 bucks definitely provided a meal to fill me up and I would not pass up The Nacho Truck if a similar opportunity presented itself once again. Look out, tacos, the nachos are ready to do battle.