Thanks to @waldocent for the guest post. Check out his website here.
The last time I was in Chicago, about three years ago, the only thing on my mind was pizza, pizza, and more pizza. However, on my most recent visit it was all about the beef. Burgers, of course.
I arrived in Chicago from Los Angeles at 7 in the morning after no sleep, because this wasn't some ordinary red-eye. You see, I had a four hour layover in Las Vegas, where I left the airport, watched the fountain show at the Bellagio, placed $20 on black and WON while slurping down a few cocktails before returning to the airport, only to realize that I forgot to do one of the most essential things: EAT. So upon my arrival to Chicago, I declared to the only person listening – my cousin Jesica – that this wasn't just a trip for me, but also my taste-buds and, to that, Jesica and many others directed me to a burger joint called DMK Burger Bar.
Located west of the 'L' at Wellington and near R. Kelly's infamous Chicago bungalow you'll find DMK Burger Bar, which is named after chef Michael Kornick and business partner David Morton. Upon entering DMK, my cousin and I quickly felt welcomed into the neighborhood atmosphere along with a menu containing an array of burgers to choose from. From their New York pastrami and French gruyere burger to their classic aged cheddar and smoked bacon burger, anyone could find what they wanted here. But I wanted something more than that, which I found in their acclaimed roasted hatch green chile, fried farm egg, Sonoma jack, and smoked bacon burger. Also, my cousin had been to DMK before, but had never tried their baked macaroni and cheese with gruyere, smoked bacon, and charred balsamic red onion (I allowed this to appease my cousin), which was raved about by many so we felt inclined to order that as well.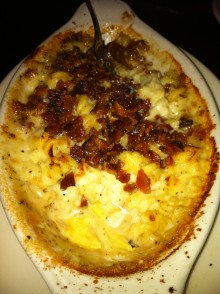 We ordered our burgers and a plate of mac and cheese while we drank a Goose Island beer from their plethora of local beers. Once the food arrived, we wasted no time in digging in. The burgers were served on fresh baked buns and were all made from grass-fed beef, which you could taste. Despite being shaped slightly flatter than I preferred – which allowed the meat to be slightly overcooked – the quality of the burger and mixture of fresh egg and green chile was incredible cohesive. I would have been fine stopping there, but sitting across the table was a plate of macaroni and cheese calling to be devoured. And with one smooth bite I was in love. This deliriously delicious side dish was big enough and exceptional enough to be the centerpiece of any meal. Obviously, much thought had gone into concocting such a dish with finely aged cheese and crispy bacon.
Afterwards, Jesica and I sat there and wondered where to go next. However, we knew that wherever that maybe it would fall a little short in comparison to DMK. So if you ever find yourself in Chicago getting off the 'L' at Wellington or even at a party at R. Kelly's house, I high recommend DMK Burger Bar for all your fresh burger and mac and cheese fixations.