Once again, here's a guest blog courtesy of @RGSpiegel.
This week, one of my good friends is on a week-long staycation as she transitions in between jobs. Knowing that I set my own hours, she asked me if I wanted to go to the beach. Given that it was 85 and sunny with a slight breeze, she didn't have to twist my arm too hard to take some time off from blogging late on a Monday morning.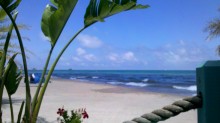 After spending about an hour accumulating a hybrid suntan and burn, we decided to head to Oak Street Beach Cafe, an outdoor patio restaurant located on a beautiful corner on the beach between the Chicago skyline and Lake Michigan.
After a little bit of confusion but staying firm that we wanted to sit in the shade as opposed to directly in the sun (I preferred to avoid looking like a lobster at the end of the day if at all possible), we sat down. Glancing at the menu, I was predisposed to ignore everything and look straight at the burgers. Even if I was not in the conservation of resources mode that pursuing a career in writing has imposed, I would never pay those prices for alcohol. The Miller High Life guy would not approve: "48 DOLLARS for a cocktail pitcher? Y'all must be crazy."
Being a good unvegan, I immediately knew that I wanted the Bruddah burger, which included applewood smoked bacon, white Wisconsin cheddar cheese, lettuce, tomato, and onions for $10.95. Not wanting the flavor of my burger tarnished by insidious, undesirable ingredients, I of course ordered the burger without the lettuce, tomato, and onions. "He wants them on the side," my less unvegan friend corrected. She had ordered fish tacos and would be supplementing those with my unwanted vegetables. Her loss. When the waitress asked if I preferred cole slaw or fries, I laughed hysterically in my head and quickly answered, "Fries."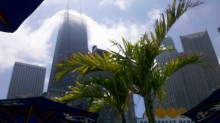 And so we waited. And waited. And waited. And waited. Normally, I am not one to complain about service. I can't stand it when Yelp reviewers downgrade ratings because of service as I usually only really care about the food. This, however, was an extraordinarily long wait at a half-full restaurant and it was almost an hour before received our food.
When the burger came, it was pretty good but not spectacular. The beef was OK and the bacon and cheddar were more than satisfactory. The pretzel bun, though, was great. Every time I eat a burger with a pretzel bun I am left wondering why this is a luxury and not the norm.
To be honest, the burger was better than it needed to be because Oak Street Beach Cafe serves a captive audience and provides you with a great view in every direction. If it was a stand alone restaurant in the middle of Chicago, I don't think I would go back for that $10.95 burger, but its location ensures that I will be back next time I get hungry at Oak Street Beach.