One day outside of my work, a new truck appeared. It was called Bera's Custom Cheese Steaks and since the best cheese steak I've ever eaten came from a food truck, I thought Bera's was definitely worth a try. They have a surprisingly robust menu for a cheese steak truck, ranging from Thai Chicken Steak to Stromboli Steak. But as good as some of these looked, I was thinking more about the "Custom" in their truck name.
Going custom meant I got a choice of meat, cheese, topping and sauce/dressing. For the meat, I chose their rib-eye steak and for cheese I went with the classic Cheez Whiz. For my topping, I went with bacon and then skipped out on the sauce. After all, Cheez Whiz is essentially cheese and sauce in one. I paid up my $8.99 for a full-sized sandwich, which also came with chips, then waited for my food.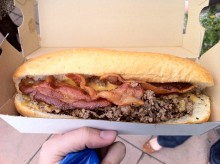 Shortly after, my cheesesteak with bacon was ready. I opened up my little cheese steak box and and saw a beautiful sandwich. I couldn't wait to get my mouth around it. As soon as I did, I was in cheese steak bliss. I don't know where the roll came from, but it seemed to be the perfect cheese steak roll. The outer crust flaked just a little bit, and inside it was perfectly soft and easy to bite through. I was a little disappointed by the small dose of bacon, but when I considered it as a topping, it really filled the role well. It was perfectly crispy and really added a nice salty, smoky taste to the sandwich. The steak itself was chopped deliciously thin and the cooking process had made it juicy enough that even without the Whiz, I probably wouldn't have needed a sauce. Yet, I did get Whiz and it complemented the cheese steak just perfectly. In my day, I've had some good cheese steaks and I've had some great cheese steaks (and of course some bad ones). The difference between good and great? Cheez Whiz. No doubt.
My custom cheese steak from Bera's really surprisingly delicious. The combination of Whiz, steak and roll were perfection and the bacon served as a great icing on the cake. After that experience, Bera's is a food truck definitely worth visiting again.