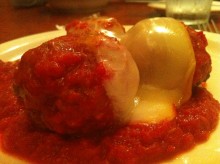 On a quest for Indian food, we found ourselves staring at a vegetarian restaurant on Venice that shall remain nameless. Realizing we had made a huge mistake, we went to the next-closest Indian place, just down the street, but for some reason it was closed on a Tuesday night at 7:30. Poor business tactics, but it would prove to be a blessing in disguise. For although the Indian place was closed, we realized we were standing in a strange little corner strip mall in Culver City with restaurants serving Japanese, Mexican, Italian and Thai food, in addition to Indian. Presented with such choices, we opted to check out the Italian place, called Giovanni's Trattoria and crossed our fingers in the hopes that it would be any good.
The first thing my little girlfriend asked for was a glass of wine and we were politely informed that they served none, but it was BYO. Sad for the moment, but happy to know that such a place exists so close to our residence. With fresh glasses of water, we perused the menu and I decided upon an antipasti and a pastato quench my meaty appetite.
The antipasti I chose was their Polpette, which is just some fancy Italian word for meatballs. These were three mid-sized balls made of beef, topped with marinara and some melted mozzarella. As far as taste went, I found them to be pretty good, but not spectacular. I loved the touch of the melted cheese and the marinara was pretty tasty, but the meatballs themselves didn't jump out at me. The beef was a bit chewy, and although the seasoning was good, it wasn't anything amazing.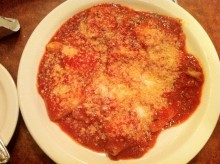 Yet, while the meatballs could have been a little better, my main course left me very little to complain about. This was their Ravioli di Pollo Piccante and was composed of ravioli filled with chicken and ricotta, covered in tomato sauce with a kick and roasted garlic. The moment I saw it, I knew it had to be mine, and I never regretted that decision. The ravioli was so fresh it had to be either house-made or made somewhere just down the street. On the inside, the ricotta/chicken balance was delicious and I was impressed with the structural integrity of the ravioli itself, which did not fall apart at all, which sometimes seems to happen when it is freshly made and cooked. The spicy tomato sauce provided some good flavor, but the spice wasn't strong enough to distract from the pasta itself. And for the garlic, which I love, I could actually see chunks of the bulbs in the sauce and it comforted me.
So while I didn't find the meatballs necessary, I do feel like I have an awesome Italian place within walking distance. Plus, they deliver, which would save me all the trouble of lugging a bottle of wine down the street. Such a buzz kill. I'll definitely be back to see what other delicious Italian offerings Giovanni's Trattoria can give me.