When Jonathan Gold's latest rendition of the 99 best restaurants in LA came out, I was amazed to find an Indian place basically in my backyard. No, I don't have an actual backyard because I live in LA, but you get my drift. Fortunately, my body had been craving Indian and I easily convinced my girlfriend that we had to order some carryout from there. While the menu appeared to have typical Indian fare, Mayura actually specialized in South Indian food. With that in mind, I was excited to get down with something new.
But before I could make it too far down the menu, I came upon the Kerala Special Chicken Curry. Chicken curry is usually my go-to Indian dish and I was excited to see what Mayura could do with it, but I didn't stop there. I also ordered their Butter Masala Dosa and in a surprise twist opted for Poori instead of plain old naan. When I arrived to pick up my order, my meal wasn't quite ready, so I took a moment to speak with the guy who seemed to either own or manage the place. He was pretty excited by the dosa I had ordered and asked me if I had ever had one before. I replied that I had and he was quick to assure me that whatever I had before would pale in comparison. It was quite a boast, but then he pointed to the issue of LA Weekly with the 99 best restaurants. It had been open to the page with Mantee on it and covered with a clear plastic tablecloth so anyone sitting at the table could see. I tried to tell him it was open to the wrong page, but failed miserably.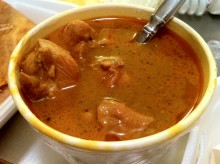 Soon enough, though, my food was ready and I got it home as quick as possible (with a short pause to pay).
When I opened up the bag of Southern India, my worst fear was confirmed – I had ordered way too much food. Yes, that is the thing I was most scared of. But everything looked and smelled amazing. Even better, it tasted amazing. The curry was a little more viscous than I am used to, but it was packed with intense flavor. It was definitely on the spicy side and I needed water to keep me cool, but it wasn't overwhelming and definitely did not distract from the delicious flavors. The chicken itself was perfectly tender and made for a great curry conduit.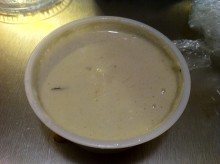 The poori also made for a great curry conduit. This fried flatbread had a sort of fried donutty taste to it, without all the sweetness. A bit of cinnamon and sugar would have made it into an Indian elephant ear, but as it was I just ripped and dipped into the curry and the coconut chutney that had come with my order. Speaking of the chutney, I love coconut and this did a great job of delivering coconut flavor without overdoing it. As for the poori, while I definitely liked it as a change of pace, I think I'll be sticking to good old-fashioned naan as my go-to Indian bread.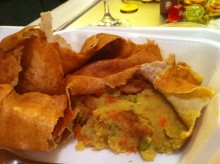 Finally, there was the Butter Masala Dosa, which was an Indian crepe stuffed with spiced potatoes. It was also disappointingly filled with peas and carrots. While these were easy to avoid and hardly noticeable when bit into, I was still a bit upset. Yet, while this meatless wonder may have been fit for a vegetarian, we unvegans love our potatoes as well, and I must say the dosa was certainly fit to have a place next to meat. It was definitely large enough to be an entire meal, but I was happy that I ordered the chicken curry to have some real nutrients in my meal. Nonetheless, the man who told me I had never eaten a better dosa was correct. It doesn't mean better dosas don't exist, but I haven't found any (not that I've exactly been searching for them…).
Mayura was definitely a delicious meal that I recommend for anyone with a stomach strong enough to handle Indian food. It's some of the best Indian food I've ever had and has some unique flavors to differentiate it from your typical Indian. Being in my backyard, it's going to be my new go-to Indian, but for someone who doesn't live on the west side, similar if not better Indian can probably be found nearby. In any case, I know where I'll be ordering from next time I'm home and in the need of food from the subcontinent.