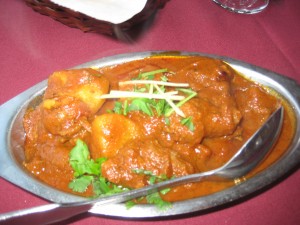 Ok, yes I know I sort of reviewed some Indian food last week from Tara's, but that was really Himalayan. So when I went to Gate of India in Hollywood, it was essentially my first time getting some full-on Indian food since moving to LA.
A buddy of mine took me to the place because it was the best Indian he had yet found in LA. Although he is Jewish, I took his work for it. Gate of India isn't exactly what you would imagine for a place in Hollywood. It's in a nondescript little row of shops on a street corner. The interior conveys a sense of a banquet hall more than an ethnic restaurant, but fortunately the prices weren't so painful, with just about everything on the menu coming in under 10 bucks.
According to my research, somewhere between 20-40% of the population of India are vegetarian. This would be enough to frighten away many meat eaters from Indian restaurants, but not me. That means the majority is still of the meat-eating persuasion. The menu at Gate of India reflected this, because while a majority of the food was meat-laden, there was still a pretty extensive vegetarian section.
We started out by ordering some Taj Mahal beers and some naan bread. One of the
naans we ordered was garlic and basil, which was pretty awesome. The other one was plain, but this didn't make it bad, just not as good as the other. Unfortunately, we failed to flip the menu to the final page, where we would have discovered even more naan varieties. This included some naan stuffed with meat, cheese and even more unvegan delights. Next time I'll make sure to scrutinize the menu even further.
For our main course, we ordered Chicken Curry and Lamb Vindaloo. I always think of chicken curry as the barometer of Indian food, and the vindaloo looked good as well. These dishes both ended up tasting quite good and although they seemed too small when they were brought to the table, once combined with rice they made for a hearty meal. As I always hope for, the curry made me sweat just a little. This is a key component I look for in all spicy foods and curry is no exception. The curry and vindaloo sauces were also both really good to dip the naan in once we had devoured the meaty components.
For Indian food in LA, Gate of India was a great place to start.