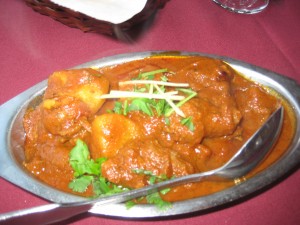 Ok, yes I know I sort of reviewed some Indian food last week from Tara's, but that was really Himalayan. So when I went to Gate of India in Hollywood, it was essentially my first time getting some full-on Indian food since moving to LA.
A buddy of mine took me to the place because it was the best Indian he had yet found in LA. Although he is Jewish, I took his work for it. Gate of India isn't exactly what you would imagine for a place in Hollywood. It's in a nondescript little row of shops on a street corner. The interior conveys a sense of a banquet hall more than an ethnic restaurant, but fortunately the prices weren't so painful, with just about everything on the menu coming in under 10 bucks.
According to my research, somewhere between 20-40% of the population of India are vegetarian. This would be enough to frighten away many meat eaters from Indian restaurants, but not me. That means the majority is still of the meat-eating persuasion. The menu at Gate of India reflected this, because while a majority of the food was meat-laden, there was still a pretty extensive vegetarian section.