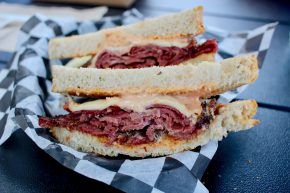 Have you ever been hanging out and watching some sort of food program on TV only to realize it is covering a city or town you're about to visit? If so, we friggin' good for you, because I just had that experience for the first time and it was glorious. It began with an episode of Man vs. Food covering Duluth, Minnesota of all places. The restaurant was Northern Waters Smokehaus and despite all of my great memories of the classic restaurants in Duluth's Canal Park, I was excited to try out something new.
Northern Waters Smokehaus is a sandwich shop specializing in smoking/curing its own meats and fish. And damn did the food look good. After careful thought, I finally honed in on the '06, which is basically their take on the reuben. It's filled with a choice of housemade pastrami or corned bison, plus sauerkraut, Russian dressing and Swiss cheese on rye. I ordered without the kraut, because even if it's housemade it is still something I don't want to touch with a ten foot pole. I also went with the pastrami based on the counter order-taker's recommendation.
The result was pretty fantastic. Like both surprisingly and unsurprisingly fantastic. First off, I wasn't surprised because this place was on TV, after all. On the other hand, Duluth is a small town and not exactly one that you would expect to dish out some of the best Jewish-style pastrami I've eaten outside of LA. Yet, there I was eating it. It's also worth noting that the bread played the role of protecting my hands and adding just the right amount of flavor to a t, while the Russian dressing was the kind I like – as in not full of relish.
I should note, however, that not everything was perfect. The sandwich was served with a pickle and that is unforgettable, if somewhat forgivable.
So, the next time you turn on your TV, I hope a Northern Waters Smokehaus-style serendipity comes your way. And sometimes there is nothing better than learning a place you have deep nostalgia for has added a new feature to make it even better.