Old Town Scottsdale has a dark side. I thought I was going out for a night of Mexican food and bowling, only to find this dark side. When I arrived at Casa Amigos I was a little taken aback by the loud music not only playing from within, but also at every other place around Casa Amigos. You might say I was even more taken aback by the weird semi-night life that was also happening within. It was like college, but not. Vegas, but not. Twerking, but not. I suppose Old Town Scottsdale is really its own special kind of place, but I was interested in the food.
It began with an appetizer of Mini Chicken Chimis. These chimichangas were filled with shredded chicken and jalapeno cream cheese, then topped with cheddar and some sour cream and guacamole for dipping. They were a solid appetizer, but not exactly my favorite take on the fried burrito.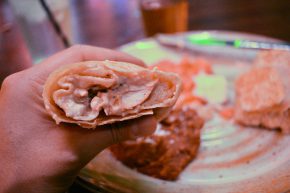 For my main course, I picked another type of burrito. I went with the Grilled Chicken variety, which was filled with the aforementioned grilled chicken, chipotle crema, a cheese blend, tomatillo salsa and pico de gallo. I forewent the pico because pico is dumb, and found myself with a pretty flaccid and uninspiring-looking burrito. It tasted slightly better than it looked, but not a lot. And yet, that's not really the reason to go to Casa Amigos in Old Town. You go for the scene, and perhaps for the bowling upstairs. And for that, it's just fine.