When my buddy recommended heading to a place called Mantee in Studio City, I was really excited to eat a sea cow and hoped the manatees were farm-raised (because we all know they are endangered in the wild). But he quickly corrected me, saying that the restaurant was lacking that all-important second "a" and was actually Mediterranean. And one look at the menu showed this was not your typical Mediterranean. There were no schwarma wraps to be seen here and instead items like that were replaced by unique Lebanese, Turkish and Armenian delights.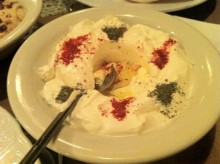 We decided to go big and started off with a nice round of appetizers. A couple had vegetables and I did not partake in such things, but the others were nothing short of delicious. The first was the Hummos Cocktail, which came topped with filet mignon and pine nuts. This was a great way to start things up and was quite tasty. It wasn't too oily like some hummos can get, but was not at all dry and had great flavor. Plus, it never hurts to have meat on top. Next was the labne, which is a thick yogurt dip flavored with a little mint and olive oil. It is awesome with pita and while not as popular as hummos in general, it is definitely awesome.
The third appetizer I got into was simply called Mantee's "Traditional." Here's where things got pretty interesting. This dish fell under the category of Hot Appetizers and consisted of oven-baked boat-shaped "ravioli" (really more like dumplings), filled with ground beef and topped with a garlic yogurt sauce and some sumac. I've got to say that this is a must-eat at Mantee. The dumplings were decadent and the garlic yogurt sauce struck a perfect balance of garlic and tart. This appetizer really had it all. I really could have made a meal out of this and the other appetizers and I would have left Mantee a happy man. Yet, I did not stop there, and I still left Mantee a happy man, just a more stuffed one.
I followed up the trio of appetizers with their Yogurt Kebab. I hadn't seen a yogurt kebab anywhere since visiting Turkey nearly three years ago, so I was really happy to see it again. Until seeing it on the menu, I didn't even realized I missed the thing, but I knew it had to be mine. And it was a wise choice. This kebab consisted of seasoned beef that had been removed from the stick and doused in that same delicious yogurt sauce as Mantee's "Traditional." In this case, though, the yogurt sauce not only held its own, but served to temper the strong seasoning of the meat. It was bliss on a plate and I was one happy unvegan.
So would I recommend Mantee? Oh hell yes. Just be sure you're ready to spend a bit of money. It's not overpriced and not really expensive for LA, but things can add up and you don't want to miss out on their delicious offerings. I'm looking forward to returning one day for lunch and bringing any adventurous eater who wants something more than your typical Mediterranean fare.