Many months ago, someone was telling me about a delicious pizza chain from the Midwest called Godfather's. Being from the Midwest, I was a bit surprised until he told me it was from that other Midwest. You know, like Kansas and stuff. Then Godfather's started getting a lot more attention because of some dude named Herman Cain that wants to be President. So when I ordered some pizza delivery from a place called Godfather's that recently appeared in Palms, I was thinking this was one and the same as the fabled Godfather's I had heard so much about. I was wrong, for the first time.
Godfather's in Palms is not some pizza chain, but an Italian restaurant with a pretty big selection. I was clearly in the mood for pizza though, so pizza I got. They had some interesting choices, but I ultimately decided upon the Medium (12 inches) Buffalo Chicken Pizza, which consisted of chicken, hot sauce and blue cheese. A perfect pizza without any of those flavor-stealing vegetables like celery or carrots that crazy people seem to love with their buffalo wings.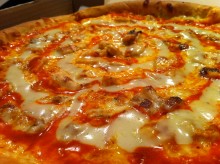 When the delivery arrived, I popped open my pizza box and was face to face with one of the prettiest pizzas I had ever seen. The blue cheese and hot sauce were nicely swirled around the pizza with purpose, but it would take more than just beauty to make me like Godfather's. Fortunately, it had that other component – taste. You see, those swirls of sauce were not only good to look at, but they also ensured that each bite I took had a perfect combination of flavors. There was never a bite with too much or too little of anything. Instead, each bite had the perfect balance of chicken, hot sauce and blue cheese. With such great flavors, the dough itself was little more than a conduit with which to deliver toppings. And the dough was good, in a California Pizza Kitchen kind of way. It didn't scream authenticity or New York, but it did its job well.
So, while it may not be a part of some legendary Midwestern chain, Godfather's Pizza in Palms is certainly worth visiting and ordering from. Now that I have the Buffalo Chicken under my belt, I'm eager to see what they can do with their Philly Cheese Steak pizza.