As a meat blogger, I am often asked what my favorite steak or steakhouse in LA is. My usual answer is, "I'm not freakin' rich, back off of me," but usually I'm able to come up with a place that has served me a good steak. Smokehouse in Burbank and Fleming's have both treated me pretty well, but as much as I love me some steaks, it is simply not economically feasible for me to eat them as much as I want. Enter my wife's bosses, who decided to take us and her dad to Mastro's in Beverly Hills as a wedding gift. Well, my friends, we have a new winner.
The only trouble is that they spoiled us. We were seated in Mastro's brand new penthouse, which is almost as exciting as it sounds. It wasn't private, but it was a great room that just oozed with luxury. We started out with drinks and the pretzel bread that is some people's favorite part of the Mastro's experience. There was other bread in the basket, but it mostly went ignored as we ordered a separate basket of just pretzel bread.
Then we moved on to our real appetizer – a massive seafood platter filled with lobster, prawns, oysters and dungeness crab. With its bright red and yellow (lemons) colors and and ice fog flowing from within, it was almost too pretty to eat. But when we began to devour the thing, it was clear that it tasted even better than it looked. I prefer my crustaceans heated up, but these things were so good that I quickly forgot my so-called preferences.
My main course was just as impressive. I ordered the bone-in ribeye cooked at medium-rare. To say that this was the best restaurant steak I've ever had is really not an overstatement. Not only was it massive, but it was so perfectly cooked and flavorful that I felt like I was in heaven (in this scenario I'm assuming vegans don't go to heaven). We had some sides with our main courses and my favorite by far was the lobster mashed potatoes. Once again, Mastro's did everything right with the balance of flavors. By the way, the mashed potatoes in the picture are pretty sizable, showing just how big the steak was.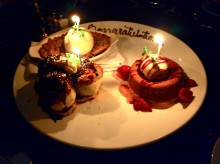 To finish things off, we were surprised with a platter of three desserts. Can I tell you what they all were? No, I refuse on the grounds that I have no idea. But I can tell you that they were all spectacular. And this is coming from a guy who typically couldn't care less for desserts (they just get in the way of meat).
To say the least, we felt like we were royalty. Everything was delicious and my wife's bosses held nothing back. Yet, there is a problem. I'm not sure I can go back. Not after being treated like that. Of course I want to go back, but seafood platter, perfect steak and delicious desserts are something I can ever hope to match. If you do want to try what I consider the best steakhouse in LA, though, you need to get to Mastro's.