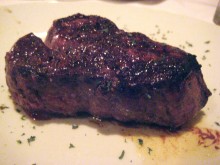 For a delicious gift, my girlfriend's parents gave us a gift card to Fleming's Steakhouse. I'd never never been to Fleming's, partially because of the price, but also because I had never really heard much about the place. Apparently, though, they have a pretty good reputation for snazzy steaks. For a nice little date, we decided to go get ourselves some red meat at the El Segundo.
I knew that I would be getting some steak, but I wasn't totally sure which steak I would need. I looked at the menu and found the biggest Filet Mignon they had and knew it had to be mine. This was called the Main Filet Mignon and sounded delicious. The steak came a la carte, so I also got some of their Chipotle Cheddar Macaroni and Cheese. This sounded like a perfectly delicious unvegan combo to me.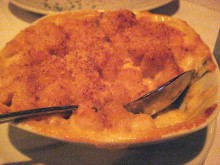 When the food came, I saw just how huge this steak was. By size alone, it was worth the $40, even though I wasn't paying. The mac and cheese was beautiful as well. I dove into the steak and started eating. I was surprised to find that the steak was actually a bit tough. Filet Mignon is known to be the most tender part of the cow, which made this a little strange. On the other hand, the flavor was delicious, something that the filet sometimes lacks due to being so lean. In those respects, the steak didn't exactly meet my expectations. Perhaps it was simply too big of a cut of meat. I saw the girlfriend's mini steak was much more tender than mine, which may have been a better choice. In this situation, quality is certainly more important than quantity.
The mac and cheese was pretty awesome, though. It was perfectly baked, creamy and had just a touch of that chipotle spice. If you have the kind of money to spend at a fancy steakhouse, Fleming's is a pretty good way to do it, but to be honest, I've definitely had some better steaks for better values.