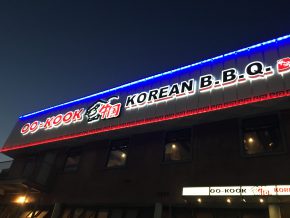 All you can eat Korean BBQ is one of the greatest things (not just food things) ever created. It's meaty, it's flamey and it is interactive-y. Yet, not all KBBQ spots are created equally, with some charging a bit more than others. Oo Kook in Koreatown is one of those places that goes beyond the $20 mark, but I was hoping it would be worth it.
The menu was full of options ranging from tongue to baby octopus to three different kinds of pork belly. Three! Of course, the classics were there as well, like brisket, short rib and "marinated" thin sliced beef, also known as bulgogi. We did our best to try out every "normal" meat and even threw in tongue for good measure.
By far, the best of all the meats was the Black Angus Beef Marinated Short Rib. And this was not an easy battle to win. After all, Oo Kook's bulgogi was made with wagyu beef and was probably the best I have ever had. Yet, the nice marbling, perfect marinating and almost melt-in-your-mouthness of the short ribs were too tough to beat. I was also a huge fan of the two types of flavored pork belly – one was miso and the other wine.
On the other end of the spectrum, the tongue was just whatever and the Black Angus Hanging Tender, which was some sort of beef was weirdly tough and just plain lacking in flavor compared to all the delicious possibilities.
While it is a noble thing to try out a number of different meats, if I were to return to Oo Kook I could easily eat four or five only and still leave a very happy man. Oh, and they did serve up a variety of pickles and other mini dishes like the rice wrapper and stuff, but as you might expect I really had no need to mess with them.
It was obvious that Oo Kook's higher price tag translated to higher quality (plus, the servers are almost always there to help you flip the meat) and I wouldn't hesitate to make a return visit the next time I'm looking to eat my weight in meat.