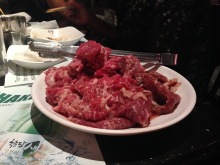 While Pittsburgh is not devoid of Korean food, there is no city on earth outside of Korea that serves up Korean food like LA. With that in mind, I made my way to Road to Seoul in Koreatown for a final meal before catching a red-eye back to Pittsburgh. Hey, if I can't give myself the meat sweats on a flight, why even sleep?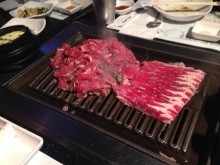 As with every other all-you-can-eat Korean BBQ spot in LA, Road to Seoul has a couple different price tiers with access to different meats. After looking over the options, we stuck with tier A, which had more than we could ever want. Unlike every other all-you-can-eat Korean BBQ spots in LA, this one played music like we were in some sort of a nightclub.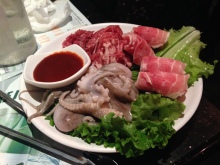 Throughout the joyous meat-eating evening, we made our way through many plates of Korean meats. My favorite to just eat forever was the Bulgogi, but that doesn't mean there weren't other great options. One was the Beef Sirloin, which was beautifully marbled, yet difficult to cook on a one-flame-fits-all situation because it was cut in thick, uneven pieces. Another was the Seasoned Beef Rib Meat, which tasted great and came in long strips that had to be cut up for distribution's sake.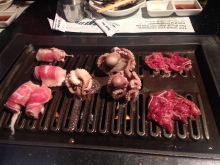 We passed over any sort of chicken because of the difficulty of cooking it, but decided to go somewhat exotic with our other meat choices, picking Pork Neck Meat (delicious), Baby Octopus (fascinating, but not so delicious) and the Beef and Pork Belly Ricecake Rolls (meat with ricecakes rolled inside that were all at once good and bad). Of course, there was also copious beer, copious pickle-esque dishes and those flat rice cakes to make Korean tacos.
Undoubtedly, Road to Seoul delivered on some delicious Korean BBQ. All-you-can-meat is basically my favorite thing in the world and I was all smiles as I left Road to Seoul and hit the road back to Pittsburgh.