I try to stay abreast of all new burger happenings around LA and it's even better when I have a connection to one of them. This was how I learned about Hollywood Burger, which originated overseas, but finally opened in real Hollywood a couple of months ago. The manager treated me to a free meal, so I was able to pick out a few things to try out to see how Hollywood Burger would fare in a city full of oh so many good burgers.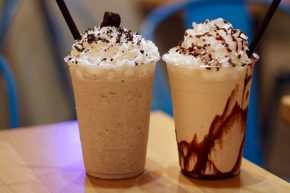 We ordered up the VIP Bacon Cheeseburger and The Blvd fried chicken sandwich, as well as the Chicken Tenders, chili cheese tots and a couple of milkshakes. The burger was topped with applewood smoked bacon, red onion, American cheese, lettuce, tomato and secret sauce, while the fried chicken sandwich had spicy slaw, dill pickles and honey chipotle sauce. All were prepared without the veggies per my liking and they all came out looking mighty pretty. I grabbed a taste of both the Oreo and chocolate shakes and was pretty happy with them, but didn't need to waste precious stomach space on such things.
The burger and the chicken sandwich turned out to be a bit of a split. The chicken sandwich stood out as better, with its hand-battered chicken and tasty honey chipotle sauce to mix up the flavor. The burger was, well, half a leg up on the typical fast food burger. The flavors were good and the bacon was better than your normal quality, but I just wasn't feeling anything special to make it stand out.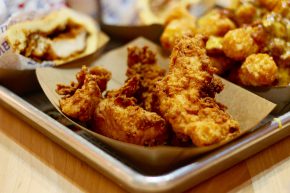 The chicken tenders, however, were fantastic. Like the sandwich, they were hand breaded and showed it with their juiciness and crispy exterior. They came with dipping sauces that were also made in-house and were all great. The tots also made for a solid side. They were all crispy and while I wouldn't have complained about a bit more chili, I can understand that this was likely to have been done to ensure the crispiness of the tots.
As a burger man, I was surprised to leave Hollywood Burger more impressed by the chicken than the ground beef. Then again, I am a fried chicken man as well and Hollywood Burger did this well. For the location and the price, it's a good place to grab some food while in Hollywood. Plus, I hear there may be breakfast coming, which should make the place a real destination for locals and tourists alike, looking for an alternative to chain fast food morning grub.