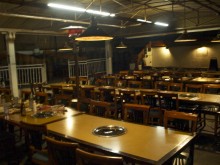 Once upon a time, Koreatown boasted an all-you-can-eat Korean BBQ joint called Manna and long before I had my own meat blog, I made my way to Manna for a protein-fest. The memory of this visit stuck with me as I visited the inferior Manna outpost in the Fox Hills mall. Granted, I wasn't too disappointed, because you can't really be disappointed with so much meat, but I knew there was something better out there. By the time I made it back to Manna in Koreatown, it was no longer Manna, but had become Meat, which is a far more appropriate name.
To say that nothing changed aside from the name would only be an understatement if I had a terrible memory, but if my memory did serve me, everything was unchanged. The place was still in one of those sort of indoor, sort of outdoor settings, which mad for a great place to eat. This setting was what the mall version truly lacked. Even the prices were the same! For 16.99, Meat offered 6 different meats that could be ordered in any quantity for us to cook at our table. The options were: Beef Brisket, Pork Belly, Spicy Beef Short Rib, Regular Beef Short Rib, Spicy Chicken Bulgogi and Beef Bulgogi.
We ordered all the meats and just about all of them were incredible. And, whenever we ran out of something delicious, we had a button at our table to push to call our waiter back over. Of course, the button was right where your elbow would normally go, so we ended up calling the waiter over a bit more than we really wanted to.
Rather than break down and explain every meat, I'll just say that the Beef Bulgogi and the Spicy Beef Short Rib were easily the greatest dishes. The pork belly and the beef brisket were the worst of the bunch. And in this bunch, being the worst simply meant that they did not have enough flavor. The cuts were great, but beyond that they could not compete. The bulgogi sauce was just the perfect amount of sweet and the spicy short rib sauce was just the right amount of spicy. Plus, both of these cuts were tender and juicy.
And it all goes down smooth with a bottle or three of Hite, everyone's favorite Korean beer. And by everyone I mean me.
On the side, Meat brings out a bunch of little pickled side dishes and some sort of eggy dish. I looked at these, but quickly moved back onto my meat, because I had no need to waste stomach space on such things, even those that weren't veggies.
Meat also carries on the traditions of Manna with that whole champagne celebration thing. You know, where you tell them that someone at your table is having a birthday and then they put on some crazy Korean birthday music and spray the birthday boy/girl with a whole shower of champagne. It matters not whether that person is dressed in their Sunday finest or Monday worst, they are getting showered.
In short, Meat is amazing. The very name should be enough to tell you it is awesome, but really the whole experience is remarkable. From the setting to the meats to the prices to the champagne shower, Meat was a winner on every account. Should you ever find yourself in need of food in Koreatown, you will not be disappointed by Meat.