Once upon a time, a sketchy-ass hot dog and sandwich hole in the wall sat upon an uncomfortable and small lot on Venice in Culver City. I meant to make it there, because sketchy-ass usually means delicious, but I didn't make it before it was replaced by Mad Dogz, a shiny hot dog and burger hole in the wall that seems to invite in customers rather than scare them away. Although it took me a little bit to make it there, I made sure to check it out before it went the way of its predecessor.
While it doesn't have the sheer creativity that pervades other hot dog establishments like Vicious Dogs in North Hollywood, but there were a few interesting options to choose from. To be clear, I was only thinking hot dogs, although their burgers looked great as well.
I ended up going with their Fire Dog, but tweaked it for my liking. It was made with a spicy Vienna beef dog split and grilled, then topped with chili, grilled onions and mustard. I replaced the mustard and onions with cheese, then got a side of fries to join it. The order didn't come out very fast, but I wasn't in a rush and was glad to know they weren't simply reheating my food. Besides, if I wanted fast food I could have gone to Subway next door.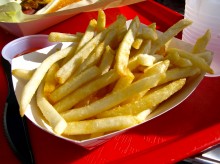 I was a bit disappointed to find the hot dog hadn't been split or grilled. I guess I was expecting something along the lines of the Crouching Tiger, Hidden Dragon from Larry's Chili Dog, but I was working with something a bit different. Different in this case turned out to be pretty good, but not great. The dog had a nice kick to it and the chili wasn't bad, but couldn't compete with other chili dogs in the Southland. And the fries were exactly what I had expected: thin, crisp and even better when dipped in the Sriracha ketchup I had made on the spot.
While nothing quite blew me away, Mad Dogz will certainly bring me back. The neighborhood needs a place like Mad Dogz and I'm looking forward to tackling their Grilled Cheese with Bacon or one of their burgers.